2015 Festival Alert: Houston's Free Press Summer Festival (FPSF) Set for June
Thu, 19 Mar 2015 11:21:55
Weezer Photos
Weezer Videos
With sold-out events for the past two years, the Free Press Summer Festival (FPSF) has revealed a lineup that continues to expand the annual event's growth.

The 2015 bill for FPSF, set for Saturday, June 6 and Sunday, June 7 at Eleanor Tinsley Park in Houston, includes headlining sets from Skrillex, R. Kelly and Weezer and performances from more than 75 acts on six stages.

Do the math and come up with AWESOME!

Inspired by and building on the cultural diversity of its host city of Houston, FPSF annually aims to deliver a musical line-up as varied as the city it calls home, along with the best of local food and drink, art installations, and artisans. This year FPSF will once again up the festival experience with upgraded production, overseen by a top level team, an expanded site, now that renovations in the park are complete, with a larger footprint that spreads further east to increase mobility within the park, and city-approved extended hours on Saturday night with live music running until 11PM on June 6.

The lineup is as follows: Skrillex; R. Kelly; Weezer; Steve Angello; Major Lazer; Ben Harper & the Innocent Criminals; St. Vincent; The Decemberists; Flume; Belle and Sebastian; Mastodon; Chance the Rapper; Tears for Fears; Band of Horses; Welcome to Houston featuring Bun-B, Slim Thug, Devin the Dude, Z-Ro, Paul Wall, Mike Jones, Scarface, Lil' Flip, Lil' Keke, and The Suffers; Gary Clark, Jr.; Charli XCX; Flogging Molly; Sturgill Simpson; G-Eazy; RL Grime; Brandi Carlile; Odesza; Future Islands; Tove Lo; Rocket from the Crypt; Lecrae; Portugal. The Man; Tycho; GTA; Glass Animals; Pallbearer; I Love Makonnen; Charles Bradley and his Extraordinaires; Benjamin Booker; Riverboat Gamblers; Yung Lean & Sad Boys; The Bright Light Social Hour; Moon Taxi; The Mountain Goats; Diarrhea Planet; Houndmouth; The Band of Heathens; Grizfolk; Iceage; Pentagram; Ben Kweller; Freeman; Sarah Jaffe; The Suffers; Tunji Ige; Buxton; Robert Ellis; Futurebirds; Twin Peaks; Goatwhore; Con Brio; Slaptop; The Tontons; DPat; Scale the Summit; Hiram; Thelastplaceyoulook; DJ Fredster; Gio Chamba; Boan; Pope; Night Drive; We Were Wolves; The Vanity; Deep Cuts; George West; Guilla; Kult Dizney; Moji; Catch Fever; Second Lovers; Prismo.

Flaw to the less.

For tickets and more info, visit FrontGateTicket.com.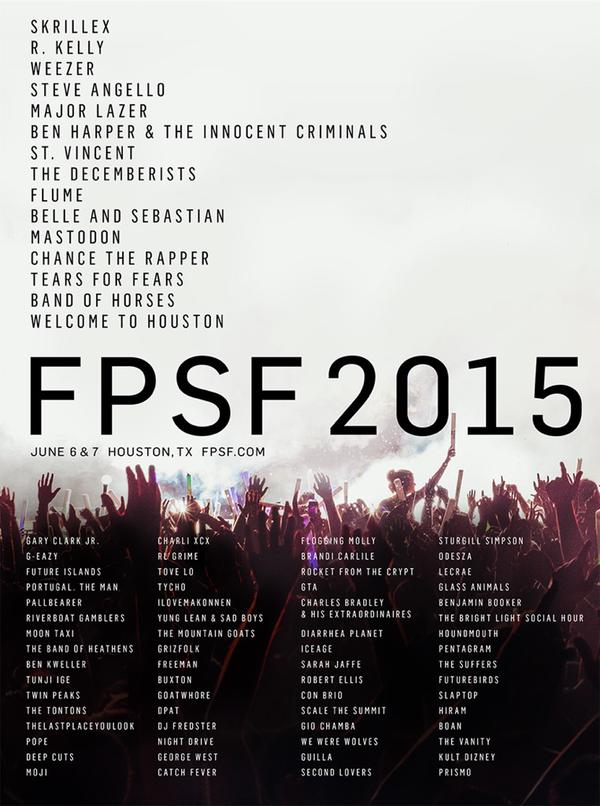 What festivals are you going to in 2015?

—Amy Sciarretto
03.19.15