2015 Festival Alert: Skate and Surf to Feature Gaslight Anthem, Attila and More
Tue, 17 Feb 2015 12:20:36
The Gaslight Anthem Photos
The Gaslight Anthem Videos
Welcome back!

The 2015 Skate and Surf Festival will be returning to Asbury Park, New Jersey on May 16 and 17 after a 10-year hiatus. The festival began in 2002 in the New Jersey town historically noted as a major epicentre of musical activity. Classic artists, including Bruce Springsteen, call Asbury Park home and it's a city heralded for nurturing both developed and established talent.

Skate and Surf is excited to announce Asbury natives The Gaslight Anthem, who will be headlining this year's festival. Other noted acts include a reunited Poison the Well, mewithoutYou, Manchester Orchestra, Motionless in White, The Wonder Years, The Front Bottoms, The Story So Far, Attila and more.

Here is the lineup thus far.

Aaron West (Acoustic)
Acceptance
American Nightmare
Attila
Beach Slang
Big D and the Kids Table
Chunk! No, Captain Chunk!
Dads
Dropkick Murphys
Four Year Strong
From Autumn to Ashes
Gideon
Head North
Kevin Devine & the Goddamn Band
Major League
Manchester Orchestra
mewithoutYou
Modern Baseball
Motionless in White
Nora
Pentimento
Pianos Become the Teeth
Poison the Well
Rebuilder
Runaway Brother
Small Brown Bike
Sorority Noise
Spraynard
Steady Hands
Terror
The Front Bottoms
The Gaslight Anthem
The Parlor Mob
The Scandals
The So So Glos
The Story So Far
The Weeks
The Wonder Years

For more tour info, visit skateandsurffest.com.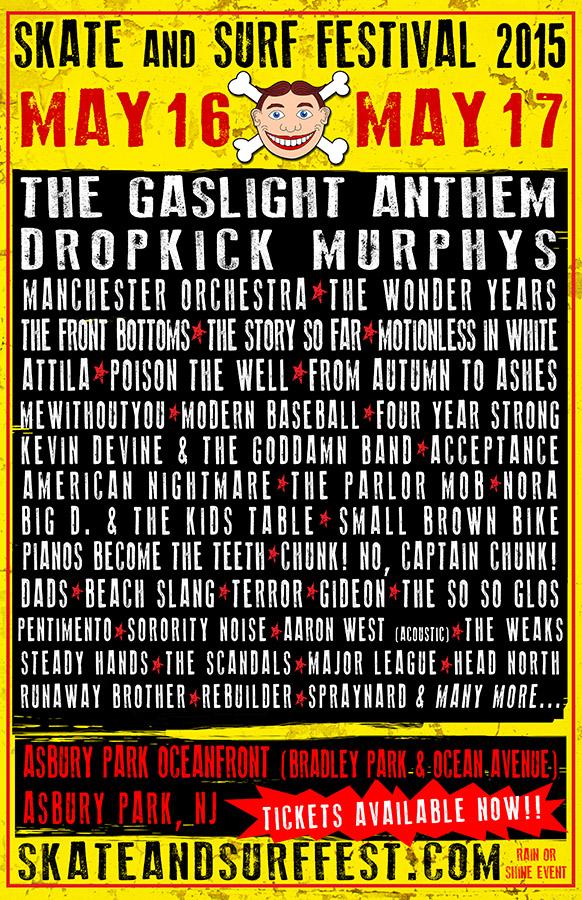 Anyone plan to go Skate and Surf?

—Amy Sciarretto
02.17.15