3 Reasons: Hollywood Undead Are Touring This Fall
Wed, 26 Aug 2015 18:12:30
Hollywood Undead Photos
Hollywood Undead Videos
You need to go see HU!

Los Angeles based hip-hop/metal veterans and former ARTISTdirect AOTW subject Hollywood Undead will return to the road in North America this fall touring in support of their latest album Day of the Dead.

You so need to see the band if you've not yet had the pleasure. If you are a fan and have plenty of ticket stubs from HU shows in your collection, you have to go again and rock the eff out!

Here are three reasons!

• The 33-date tour will also feature Crown the Empire and I Prevail on most dates. That lineup of bands is beyond eclectic and there is something for every rock fan. It will be a night of hard rock that does not disappoint. That is, if you are lucky enough to have the tour cruise through your hood.

• The band hasn't toured fully since 2013. That means "It's about time" for a HU tour! "Let's start off by saying that we are very excited to be doing a full U.S. and Canadian tour again," said Da Kurlzz. "Not since 2013 have we been able to reach all over and with our new album DOTD expect a new and energetic live show. Crown the Empire and I Prevail are two explosive new bands that will surely make HU fans leaving for more... can't wait. HU4L." HU4L indeed. Or #HU4L indeed.

• Hollywood Undead also have several major festival performances planned for this fall including stops at: Louder Than Life Music, Rock Allegiance, Aftershock and Kink Fest. If you can't make those, well, there are lots of shows on this trek! One is bound to hit your hood!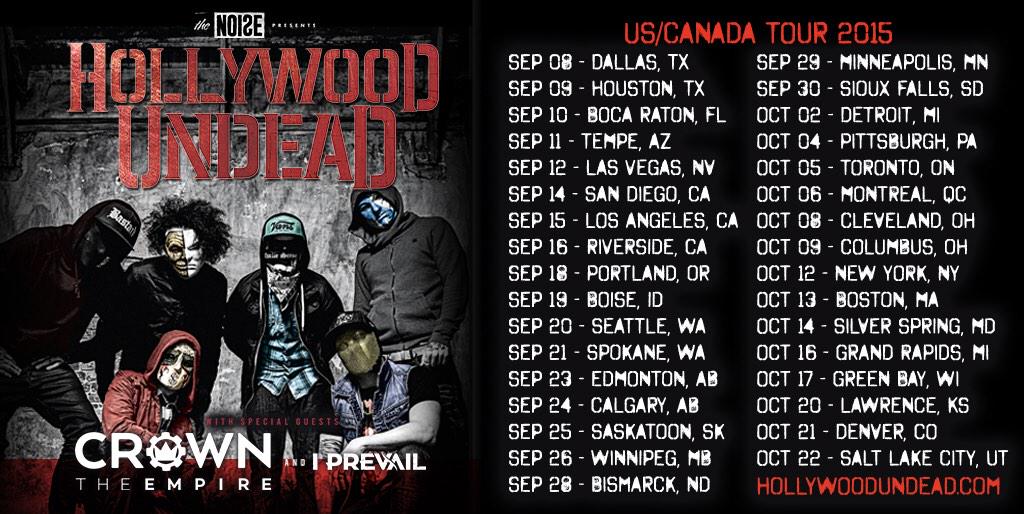 Hollywood Undead Tour Dates:

9/08 — Dallas, Texas – House of Blues
9/09 — Houston, Texas – House of Blues
9/10 — Boca Raton, Fla. – Florida Atlantic University
9/11 — Tempe, Ariz. – The Marquee
9/12 — Las Vegas, Nev. – House of Blues
9/14 — San Diego, Calif. – House of Blues
9/15 — Los Angeles, Calif. – Mayan Theatre
9/16 — Riverside, Calif. – Riverside Auditorium (no I Prevail)
9/18 — Portland, Ore. – Crystal Ballroom (no I Prevail)
9/19 — Boise, Idaho – Knitting Factory
9/20 — Seattle, Wash. – Showbox Market
9/21 — Spokane, Wash. – Knitting Factory
9/23 — Edmonton, Alberta – Union Hall
9/24 — Calgary, Alberta – MacEwan Ballroom
9/25 — Saskatoon, Saskatchewan – O'Brian's Event Centre (no I Prevail)
9/26 — Winnipeg, Manitoba – The Garrick (no I Prevail)
9/28 — Bismarck, N.D. – Civic Center
9/29 — Minneapolis, Minn. – First Avenue
9/30 — Sioux Falls, S.D. – The District
10/2 — Detroit, Mich. – The Fillmore (no I Prevail)
10/3 – Louisville, KY – Champions Park (Louder Than Life Music Festival)
10/4 — Pittsburgh, Pa. – Stage AE
10/5 — Toronto, Ontario – Phoenix Concert Theatre
10/6 — Montreal, Quebec – Metropolis
10/8 — Cleveland, Ohio – House Of Blues
10/9 — Columbus, Ohio – Newport Music Hall
10/10 - Chester, PA – PPL Park (Rock Allegiance Festival)
10/12 — New York, N.Y. – Webster Hall
10/13 — Boston, Mass. – House Of Blues
10/14 — Silver Spring, Md. – The Fillmore
10/16 — Grand Rapids, Mich. – The Intersection (no I Prevail)
10/17 — Green Bay, Wisc. – Sandlot Entertainment Complex
10/20 — Lawrence, Kan. – Granada Theater
10/21 — Denver, Colo. – Summit Music Hall
10/22 — Salt Lake City, Utah – In The Venue
10/24 – Elvira, CA – Gibson Ranch (Aftershock Festival)
11/14 – Orlando, FL – Central Florida Fairgrounds (Kink Fest)

It's time to be "alive" with Hollywood Undead.

—Amy Sciarretto
08.26.15