Global Citizen Festival Set for September 27
Thu, 10 Jul 2014 08:58:17
No Doubt Photos
No Doubt Videos
The Global Citizen movement continues its campaign to achieve a world without extreme poverty by 2030 with the third annual Global Citizen Festival, a free ticketed concert on the Great Lawn in Central Park in NYC.

The 2014 Global Citizen Festival will be headlined by Jay-Z, No Doubt, Carrie Underwood, Fun., The Roots and Tiësto and will take place on Saturday, September 27, 2014.

The event is free but you earn entry through activism. Read on to find out how.

Free music is good. Free, good music is better. Free, good, live music is the best. Free, good, live music for a cause is the top of the food chain of goodness.

MSNBC and NBC News will serve as official media partners for this year's Festival. For the first time ever, the Festival will air live on television with MSNBC carrying the full concert on cable and msnbc.com. In addition, NBC News will produce a one-hour primetime special of the event to air on NBC at 9PM on September 27. MSNBC and NBC News will also highlight the issues surrounding global poverty in the coming months.

Free tickets to the Festival are available by participating in online actions at www.globalcitizenfestival.com, where users take "action" to earn their admission.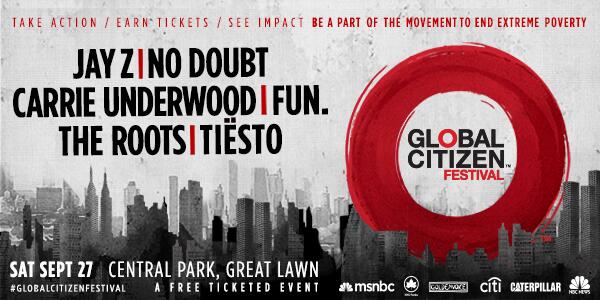 By signing petitions, emailing world leaders and sharing content with their social networks, fans become active participants in campaigning for positive change as they earn points that can be used to enter the prize draw to win free tickets. Ticket draws will occur throughout the summer and fans will be notified via Ticketmaster when they have been selected. A limited number of VIP tickets will also be available for purchase through Ticketmaster. For the third year in a row, Citi is a proud partner of the Global Citizen Festival and Citi credit card members will have exclusive access to VIP offers at the early bird pricing.

The Festival coincides with the UN General Assembly and will serve as a high-profile platform to call for tangible commitments from world leaders in the areas of vaccines, education and sanitation. Major campaigns tied to this year's Festival include: securing contributions for the GAVI Alliance and the Global Partnership for Education, and building momentum by citizens for the Water for the World Act, a Congressional bill that will support efforts to benefit the 1.25 billion women and girls that currently go without safe access to sanitation.

This year's Festival will also focus on ensuring that all the world's children and young people can survive and thrive. It will support a UNFPA-led global campaign to ensure the rights of adolescents and youth, especially girls, are firmly included in the Post-2015 Development Agenda. Global Citizens will be calling on all governments to prioritize investments for young people across crucial areas of education, reproductive health and safety from violence.

Jay Z said, "Change only takes place when and where there is action. I'm joining the 2014 Global Citizen Festival because I believe through actions, whether it be by raising awareness, getting involved or educating ourselves, the goal to end extreme poverty by 2030 is possible."

No Doubt issued a statement saying, "Our earliest musical influences were artists from around the world who made us aware of issues beyond our own backyards. We hope to continue that tradition of raising awareness by joining an incredible group of performers on stage at the Global Citizen Festival to shine a light on the unacceptable fact that over 1.2 billion people on our planet still live in extreme poverty."

"I believe we all have the ability to make our world a better place. Positive change is possible when we work together, and this Festival is a hopeful opportunity for all of us to help see an end to extreme poverty," said Carrie Underwood.

On their participation in the Festival, fun. stated, "We believe that everyone should have equal rights. We look forward to performing with these incredible artists as we rally our fans to join us in helping to make the world a better, more equal place."

In a statement from The Roots, the band said, "Every day we hear stories of people who are looking for a helping hand. We look forward to joining the thousands of global citizens on the Great Lawn who recognize we live in an interdependent world where our actions can positively affect the lives of others across the globe."

World renowned EDM headliner Tiësto stated, "I am very excited to perform at this year's Global Citizen Festival and continue my support for protecting the world's children. I'm asking my fans to join me and call on our world leaders to bring about real change that will help our children live healthy, strong lives."

One of the first "actions" fans can complete is the signing of a petition calling on world leaders to contribute $7.5 billion to the GAVI Alliance, which provides lifesaving vaccines to children in poor countries. This funding would enable the GAVI Alliance to help immunize 300 million children by 2020, which will help save the lives of 5 million to 6 million children worldwide.

"The GAVI Alliance is striving to see every child, everywhere is immunized with life-saving vaccines," said Dr. Seth Berkley, CEO of the GAVI Alliance. "With funding, we can massively increase the impact of immunization in the poorest countries by 2020. By signing this important petition and becoming a Global Citizen, you will ensure that children get the vaccines they need to be healthy, go to school and help pull their communities out of poverty."

The Festival is only possible due to the incredible support from Mayor Bill de Blasio, and his administration, who are creating new educational opportunities this fall for thousands of New York City's children with the introduction of universal pre-kindergarten programs across the five boroughs.

Whew. That was a LOT to digest, but we wanted to give you the full complement of information so that you can get involved and understand the initiative from top down.

Did you get your free ticket through action? Will you tune in?

—Maggie Pannacione
07.10.14