Guest Collector: Mike Doughty
Wed, 27 Feb 2008 13:47:55
Mike Doughty Videos
Though most might recognize Mike Doughty as the founding member of the '90s, two-mainstream-hit wonders and NYC cult-rock band Soul Coughing, he's broken out of his past success (and losses) and built a flourishing solo career. On Doughty's latest release, Golden Delicious—his fourth solo release—he challenges the current political tides and themes, with an emphasis on attacking the war in Iraq.

Despite is political directness, the album is full of impassioned heart and features fellow '90s frontman Dan Wilson (of Semisonic) as the album's producer. Since this kind of talent can only come from a musician with impeccable taste, we caught up with Doughty and asked him to give us a sneak peek into his record collection favorites.


Led Zeppelin - IV
This was an obsession for me when I was in junior high school. I spent hours with my best friend trying to decode the lyrics of "The Battle of Evermore," and find the secret message we were sure it contained.


A Tribe Called Quest - The Low End Theory
Along with the above, one of the few albums that I'll listen to without employing the skip button. I remember listening to this on a trip back from a girlfriend's house in Connecticut—I bought the cassette at the Stamford mall—to New York, and being astonished.


The Replacements - Let It Be
I remember listening to this in my parents' kitchen when I was 14. It was autumn and the light was golden through orange leaves outside. I lived on West Point--my dad taught there--and it was an Army football game day, so the streets were full of retired officers and their wives with pennants and cooler-kings.


Sam Cooke - Greatest Hits
I won this record in a lo-fi raffle from a hippie kid named BJ who was trying to organize a summer following the Dead.



Talking Heads - Remain in Light
[I remember] Up at Simon's Rock in Massachussetts, going to school, listening to this on a tiny boombox late at night, alone. A transmission from a weird world.


Tom Waits - Rain Dogs
I just didn't understand this, but I wanted to (I was 16), and I kept listening to it until its ghostly magic was clear to me. That sort of impromptu suite from "Midtown," to "9th and Hennepin," to "Gun Street Girl"—perfection.


Toots and the Maytals - Funky Kingston
I had a job in the summer of 1990 delivering ice cream for a gourmet gelato company. I taped this from my roommate's LP and listened to it over and over in the truck's cab, heading up First Avenue in Manhattan as the sun came up at six in the morning.


Stone Roses - Stone Roses
This was the other album I listened to that summer [1989]. Those strange, faraway vocals, so haunting but nonchalant, and the great guitar solos—and the drumming!


James Brown - Love Power Peace: Live at the Olympia, Paris, 1971
The JBs play everything here at breakneck speed. I can't imagine how thrilling it was to see (and with French people!). Phelps "Catfish" Collins plays guitar, and there are amazingly great solos all over the place.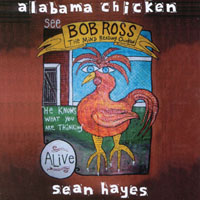 Sean Hayes - Alabama Chicken
Not the actor from Will & Grace, but a San Francisco songwriter that I think is just the bee's knees. He's kind of the guy I want to be. Listen to "Rattlesnake Charm"; it's groovy, heartbreaking and optimistic all at the same time.

Mike Doughty's Golden Delicious is out now on ATO Records.

—The ARTISTdirect Staff
02.27.08