Guitars Over Guns Staging Benefit Concert on August 23
Thu, 07 Aug 2014 15:05:21
Tomas Diaz Videos
Guitars Over Guns, a Miami-based nonprofit that provides mentoring to at-risk youth through music education and performance, announced that it will hold its first annual Choose Your Sound benefit concert on Saturday, August 23 from 7 to 11 PM at the Gleason Room backstage at the Fillmore in Miami Beach.

Good music x good cause.

Tickets are available for $100 here.

Guitars Over Guns (GOGO) president and co-founder Chad Bernstein launched the organization in 2008 to formalize the ad-hoc mentoring that he and other members of the Miami band Suenalo were providing to local middle-schoolers.

Here are the key details about the org.

In partnership with Communities in Schools, the country's largest dropout prevention organization, GOGO delivers a results-based, scalable model for bringing the joy and discipline of music-making to young people facing adversity in high-risk environments. Through its weekly programs, professional musicians forge positive relationships with students through one-on-one mentoring and instruction in music theory and performance.

"In addition to developing musicianship skills and strong relationships with local mentors, students who participate in Guitars Over Guns programs do better in school: 96 percent of GOGO students have improved their grades in math and reading," said Mr. Bernstein. "The Choose Your Sound benefit concert will raise money to support our programs so that we can bring the transformative power of music to more students and schools in South Florida and beyond. We are thrilled to have a great lineup of bands and some of our community's most prominent artists lending their support to our mission and joining us for what promises to be a fantastic evening of entertainment."

Sponsored by Matusalem, Tito's Vodka, Bombay Sapphire and Lagunitas Brewery the Choose Your Sound benefit concert will feature performances from local bands Suenalo, the Spam Allstars and Tomas Diaz as well as student musicians from the GOGO program. Roxanne Vargas of NBC 6 South Florida will host the event, and singer and actor Jencarlos Canela will make a special appearance. There will also be a fine art exhibition featuring work from internationally renowned artist LEBO (who will create a one-of-a-kind painting to be auctioned that evening), Krave, Bhakti Baxter, Alvin Hernandez, and Eva Ruiz, and a silent auction of unique gift packages and donated prizes.

"If I weren't in GOGO I'd probably be susceptible to gang violence, street fights and drug abuse," said Amelio Joseph, former student of the Guitars Over Guns Program. "It's just a way for me to express myself, to just get my feelings out there. Life without music is not life at all."

What can you do to support this wonderful organization?
Visit GuitarsOverGuns.org for more info.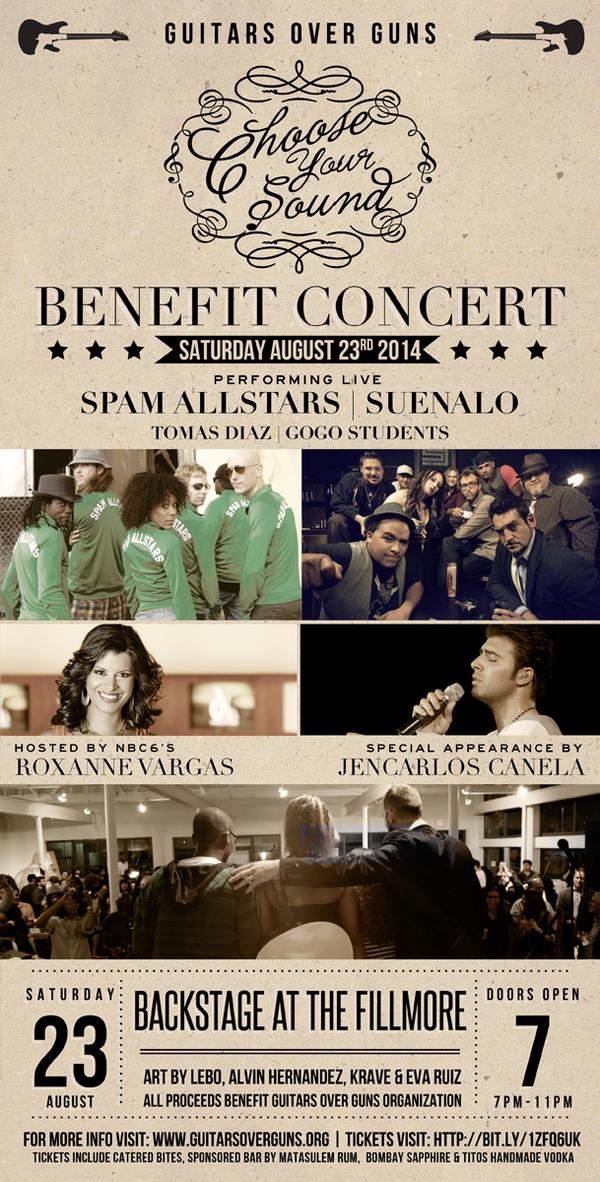 —Carly Costello
08.07.14