If You're Headed to SXSW, Check Out StubHub's SXSW Showcase
Mon, 02 Mar 2015 09:32:12
Portugal. The Man Photos
Portugal. The Man Videos
StubHub, the world's largest ticket marketplace, is rocking The StubHub Music Experience, a three-day showcase at the South by Southwest (SXSW) music festival on March 17, 18 and 19.

If you're headed to SXSW, then you better hit up their event.

Hosted at Clive Bar, the lineup will feature an eclectic mix of 28 well-known and emerging artists, including headliners Future Islands, Portugal. The Man, The War on Drugs and The Vaccines, as well as Surfer Blood, The Mowgli's, Charles Bradley, The Dodos, MS MR, San Fermin, Mew and many others.

That's a lineup that we sure love! If you love good music, then that means you love this lineup, too!

Festival attendees must RSVP for daytime sessions in advance at this location.

So do it up.

Also, fans who download the StubHub Music concert discovery iOS app, or the StubHub app for Android users, will also have access to expedited or preferred entry into the venue for daytime and evening performances, as well as exclusive interviews and artist-recommended shows.

Beginning at 2PM each day and continuing throughout the evening, The StubHub Music Experience will provide fans with more than 10 hours worth of musical talent from around the world, while enjoying the indoor and outdoor setting at one of Austin's most iconic venues.

Leading into and throughout SXSW, the StubHub Music app will have a special SXSW news section, offering attendees exclusive features, including interviews and videos with artists appearing at The StubHub Music Experience.

To help fans discover some of the most buzzworthy acts, bars, restaurants and hot spots around SXSW and Austin, the app will also share artist recommendations and insider tips that can't be missed.

When fans come by The StubHub Music Experience, music curators will be on hand to showcase the perks of having the StubHub Music app at their fingertips to help guide attendees' SXSW experiences.

Seriously, StubHub is doing ALL the work for you.

With the help of the app, these app experts will help curate personal SXSW concert itineraries based on their music preferences and favorite venues, giving fans a chance to discover even more music in this rich, live concert environment. StubHub Music syncs with users' music libraries to make personalized recommendations of local live events based on their music preferences and helps fans discover other similar acts and events.

To download the StubHub Music app, please visit the iTunes App Store.

To access The StubHub Music Experience content for SXSW on Android or desktop, visit here.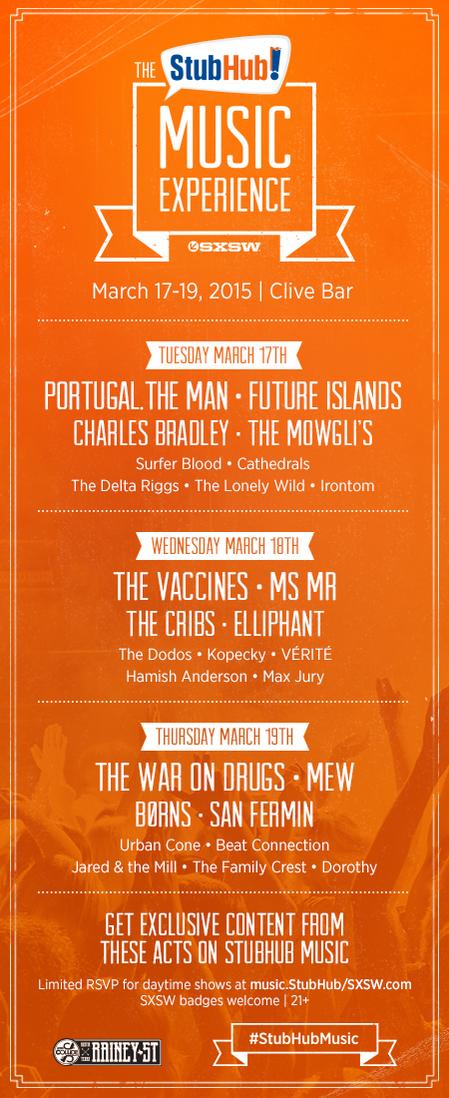 Are you going to SXSW?

—Amy Sciarretto
03.02.15