In Flames and Opeth Announce December 2014 Tour
Wed, 13 Aug 2014 18:01:02
In Flames Videos
Headbangers are about to cream in their pantalonis, as two of Sweden's most respected and beloved rock exports —that'd be In Flames and Opeth— will descend upon North America this December for a 15-date, co-headline tour that kicks off December 3 in Chicago and runs through December 21 in Toronto.

Are you hyperventilating yet?

Have you finally caught your breath? Okay, good, pay attention, since we have more information for you.

Tickets for the tour, dubbed "Communion of Sirens," a combo of Siren Charms and Pale Communion, the titles of In Flames' and Opeth's new albums, respectively will go on sale on August 15 at 10AM local time.

"I met [Opeth guitarist] Mikael [Akerfeldt] for the first time in 1998 during the recording of Opeth's album My Arms, Your Hearse," recalls In Flames frontman Anders Friden. "I was working in the studio and we've been friends ever since. Now 16 years more beautiful, we release albums in the same cycle and it's with great honor and pleasure that In Flames share stage with our friends and fellow countrymen in Opeth."

Akerfeldt concurred, saying, "We are delighted to return to North America to tour our latest album Pale Communion. This will be the first of two North American Tours and the fact that we are teaming up with our old friends In Flames for this co-headline tour means that we can get to play some large venues and present our new stage show. I am also looking forward to drinking expensive whiskey with Anders on his account."

Wow! That sounds like good times are indeed ahead for In Flames x Opeth, for both the bands and the fans.

Tour Dates:

12/3 - Riviera Theatre | Chicago, Ill.
12/4 - Mill City Nights | Minneapolis, Minn.
12/5 - Sokol Auditorium | Omaha, Neb.
12/6 - Ogden Theatre | Denver, Colo.
12/8 - Warfield | San Francisco, Calif.
12/9 - Hollywood Palladium | Los Angeles, Calif.
12/10 - The Marquee Theatre | Tempe, Az.
12/12 - Warehouse Live | Houston, Texas
12/13 - Gas Monkey Music | Dallas, Texas
12/15 - Tabernacle | Atlanta, Ga.
12/17 - Electric Factory | Philadelphia, Pa.
12/18 - Terminal 5 | New York, N.Y.
12/19 - Palladium | Worcester, Mass.
12/20 - Metropolis | Montreal, QC
12/21 - Koolhaus | Toronto, ONT

For more tour info, visit inflames.com/tour.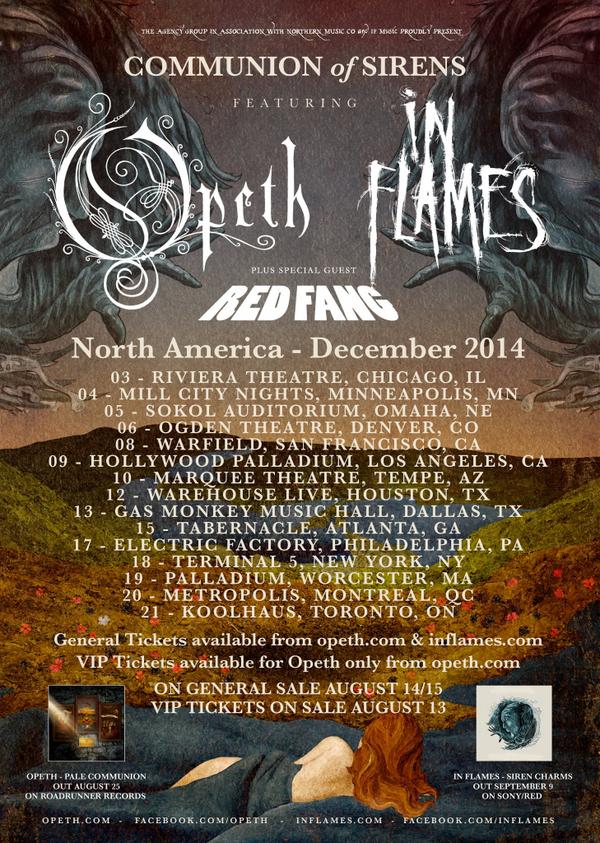 Will you be seeing In Flames x Opeth on tour in December? Do NOT snooze on this tour of masterful metal musicians who matured together!

—The ARTISTdirect Staff
08.13.14