Interview: 3OH!3
Mon, 14 Oct 2013 10:05:54
3OH!3 Photos
3OH!3 Videos
3OH!3 bring the party wherever they go. That's exactly what's happening on their Fall jaunt, the NOISE TOUR powered by Journeys, and also featuring The Summer Set, Wallpaper., and NeW bEAT FUNd. Each band on this varied bill offers its own live experience, making for a well-rounded and unforgettable evening. It's not to be missed!

In this exclusive interview with ARTISTdirect.com editor in chief Rick Florino, Nathaniel Motte of 3OH!3 discusses the tour and so much more.

How much input did you have in constructing the bill?

We had a lot. Obviously, we were working in the confines of it being a sponsored tour by Journeys. We're all very proactive in deciding what bands are coming on tour with us. For us, it's most important to consider the people who are coming to the show and the amount of fun we can expect to give them. This package is a lot of fun. We've known the Summer Set guys for a long time. They're nice. We've known WALLPAPER. for a while, and he's great live. The NeW bEAT FUNd guys are great too.

How do you go about curating a set list now?

It's funny. It snuck up on us, but at this point we have four records and a slew of single records. It's sort of like doing a marathon. It's tough to pick! First of all, we put ourselves into the position of people coming to the show. We have a lot of fans of our music from back in the day—2007 and 2008 on our first releases. We want to play music from all of our records. That comes into mind, so we do. Recently, I've been going back, reproducing, tearing apart, and re-orchestrating a lot of our old songs and putting them into medleys. In six or seven minutes, we can hit three songs from our first CD and make these high-energy fun and dynamic medleys. Those are great because they allow you to hit those old things as an homage to the longtime fans coming out. We spread it out, and it's all over the place chronologically within the set itself. It hopefully flows the best.

That keeps it fresh for you because you're not playing the same arrangement.

Absolutely! We're just as concerned with having fun. That's reflected in what the crowd's feeling if we're having a good time up there. It does become a bit monotonous to play the same thing over and over again. It's fun to re-orchestrate it. We have a live band as well. We run electronic elements, but also have drums, guitars, and keys live. Sometimes, we fuck up, but that humanizes the show.

Do the songs mesh easily for those medleys?

We've been at it for a while. My start in electronic music was DJ-ing actually. I used to DJ a lot of bars and parties as well as some radio. I guess that helps me program a set because you can feel what flows with what. We're not analyzing the key of the song or tempo to make a harmonic change. It's about the feel. It's a macro-feel for what would work. It's fun to do that in the studio. On one hand, it's fun to stay truthful to those tracks, and on the other, it's great to expand them and take them further. It's dope to do it live because you can feel your way and out of all these songs.

What songs always set the crowd off?

"Don't Trust Me" is probably our biggest song, and that one is crazy. We came up with an extended outro, and it's fun to play. A lot of fans like "Choke Chain", which is an old one. Then, there's "Girl, I'm Not Your Boyfriend". They're both high-energy and gnarly. Those are great live. We've been fortunate to have great shows everywhere we go. There's not too much of a lull in our shows. People who come to our shows should be ready to go for an hour-and-a-half.

What are you listening to?

A lot of my friends make music, and we bounce it back and forth a lot. I love the new record from The Weeknd. I haven't listened to the new Drake album, but "Hold On, We're Going Home" is pretty incredible. I still think my favorite of the year is the new Phoenix. It's really good front-to-back and consistent. We write and produce music for a lot of other artists. You can expand and do things you wouldn't necessarily do in your own artistry.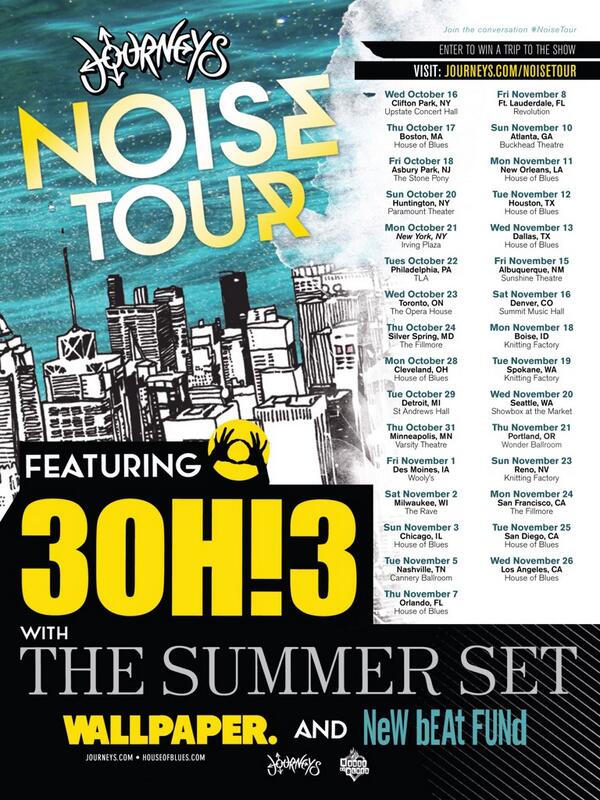 —Rick Florino
10.14.13

What's your favorite 3OH!3 song?