Interview: RÜFÜS DU SOL
Thu, 11 Sep 2014 14:41:44
Australia's RÜFÜS DU SOL transform electronic music into their very own canvas on ATLAS [iTunes link]. From there, they paint a pastiche of shimmering and soaring melodies and cinematic instrumentation that makes for an otherworldly ride of epic proportions. It's unlike anything else out there, and it will transport you some place new altogether...

In this exclusive interview with ARTISTdirect.com editor in chief Rick Florino, Jon of RÜFÜS DU SOL talks Atlas, movies, and so much more.

What's your vision for ATLAS as a whole?

We wanted to write an album that you listened to as an album. I'm not sure if people are doing that, but that was the vision. Hopefully people in the U.S. connect with it because we like touring there. The crowds are really honest and the people are super fun.

How do songs generally start for you?

The working titles were all names of places—"Take Me" was The Caribbean, "Desert Night" was Berlin etc...So, we approached the writing of each track with the idea of making it a transportive piece of music from the start.

What's the story behind "Unforgiven"? What does the song mean to you?

Everyone has a story like that. So, we wanted to put it into a song. It's the only guest vocal on the record, so it's a real moment of reward in the second half. You don't expect a female vocal to come in. That's actually why we didn't credit Jess in the song title. We wanted it to be a surprise moment.

Where did "Imaginary Air" come from?

That's the oldest track on the record. We wrote it about 12 months before the rest of the material and actually knew immediately that we wanted to save it for the end of our album.

What artists shaped you?

We listen to a lot of different music between us and I think that makes our writing process pretty interesting. However, the kinds of artist we reference when writing are people who are masters of their trade—Claude Von Stroke, David August, Trentemoller, Booka Shade, The Acid, and Warpaint. All these artists are masters of their sound. What they don't do with their sound is just as important as what they do with it. We try to bring that to our writing.

If your new album were a movie or a combination of movies what would it be?

It would be a Sean Penn directed, pre-apocalyptic story of small town summer love, starring James Franco and Eva Green. The beauty is in the setting and the interplay between the two characters.

What's next for you?

We're touring the record all across North America in October, bringing our friends Hermitude along in support. So excited. But, right now we are in the UK/Europe setting up little home studios between shows. We have just started writing the follow up record as we really wanted to get some of the ideas we've been having down.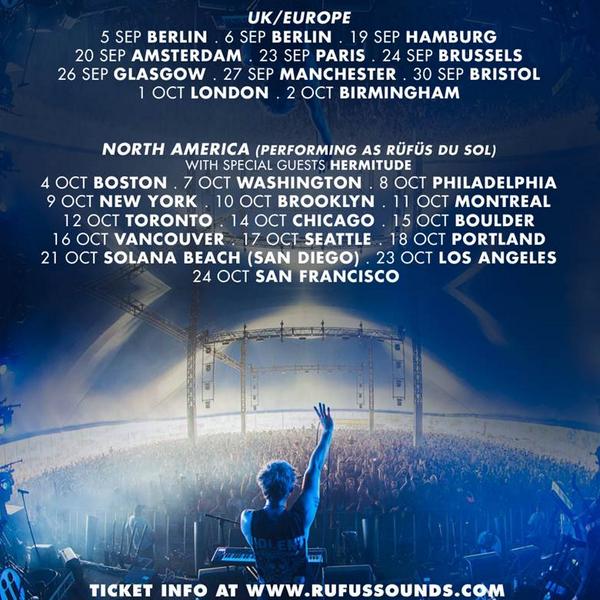 —Rick Florino
09.11.14

What's your favorite RÜFÜS DU SOL song?