Q-Tip to Perform at Dos Equis' Masquerade
Fri, 17 Oct 2014 12:46:49
Q-Tip Videos
Q-Tip will performing at Dos Equis' Masquerade in New Orleans next month. Sound fun? Wanna go? Well, the brand is giving six lucky fans a chance to win an all-expense paid trip for two to meet The Most Interesting Man in the World and to celebrate with Q-Tip on November 22.

You know TMIMITW, right? He of the beer commercials!

How can you enter to win? It's easy and fun, actually.

Now through October 31, fans can enter the contest by posting Masquerade and Halloween photos to Instagram using #XXMasquerade or by uploading them to XXMasquerade.com. Every photo posted, uploaded or texted/emailed represents another chance to win!

So get snapping and get IGing if you are of legal drinking age, naturally. If you can hang with TMIMITW, it's worth it.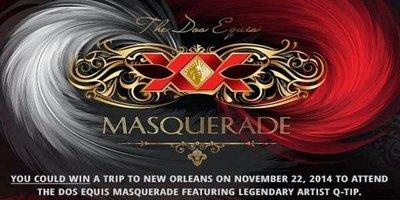 Anyone plan to IG pics for a chance to meet TMIMITW.

—Amy Sciarretto
10.17.14