Ride Festival Announces Lineup
Thu, 17 Apr 2014 12:54:14
Spoon Photos
Spoon Videos
Let me ride!

The Ride Festival released its initial artist lineup for the festival's third year at Colorado's breathtaking Telluride Town Park on July 12-13, 2014.

Folk-rock Grammy winners Edward Sharpe & the Magnetic Zeros and Austin-based alt-rockers Spoon top the lineup for the 2014 Ride Festival.

Also announced to perform are JJ Grey & Mofro, Joan Osborne, Lucero, The Hold Steady, Vintage Trouble, Rival Sons, Delta Rae, The Wood Brothers, Reignwolf, White Denim, Brother & Bones, Harlem Gospel Choir, The Delta Saints, and The Cold Stares, with additional artists still to be announced.

Eclectic, right?

Since its debut in 2012, The Ride Festival has filled a unique niche in Colorado and among U.S. festival offerings, as host to a carefully curated Americana/rock lineup offering world-class musical acts and introducing new, soon-to-break talent.

This is one festival you SHOULD travel to if you like this type of vibe and musical curation and if you like to travel and have a desire to visit Colorado.

In addition to the performances on the Main Stage in Telluride Town Park, music spills out onto Telluride's charming Main Street for late night showcases by emerging talent from a variety of genres.

So you can enjoy the event and get a taste of the city that hosts it.

The Ride Festival's close proximity to the many outdoor activities that Telluride and Southern Colorado have to offer make the festival a unique destination event.

Attendees can enjoy hiking, biking, hot springs, and so much more – all in a truly majestic setting.

It really is so much more than a fest, but it also has a cultural impact.

The Ride Fest helps benefit Telluride's beloved KOTOfm, one of the country's last remaining music radio stations that is entirely listener supported and non-commercial.

For more info, visit ridefestival.com.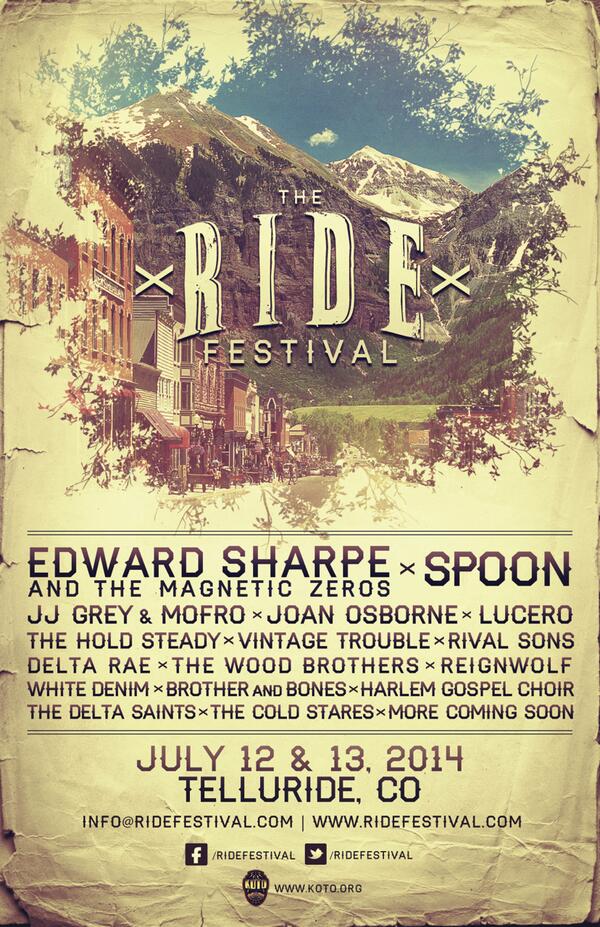 What festivals are on your docket for 2014?

—Katie Sheehan
04.17.14