Sasquatch! Music Festival Lineup Announced
Thu, 20 Feb 2014 11:08:32
Queens of the Stone Age Photos
The National Videos
This year's Sasquatch! Music Festival in Gorge, Washington takes place over two holiday weekends in two different months later this year.

What a way to celebrate the summer holidays in the Pacific Northwest.

The event first takes place Memorial Day weekend, which is May 23 – May 25, and the second occurs during Fourth of July weekend, which is July 4 – July 6.

Each holiday event will feature an entirely different lineup, with OutKast, The National, Queens of the Stone Age, M.I.A., Foster the People, HAIM, Neko Case, Tyler, The Creator, Cage the Elephant, The Naked and Famous, The Dodos, Cold War Kids, Violent Femmes and more scheduled for Memorial Day Weekend.

The Fourth of July weekend lineup features Kraftwerk, Frank Ocean, Neutral Milk Hotel, Soundgarden, New Order, Spoon, Local Natives, Broken Bells, Tegan and Sara, Kurt Vile, Dr. Dog, Action Bronson, Cloud Nothings, Foxygen and many more.

So it's like two different festivals. If you live in the area and are going to both, we have one word, two syllables for you. "LUCKY!"

For more fest info, visit sasquatchfestival.com.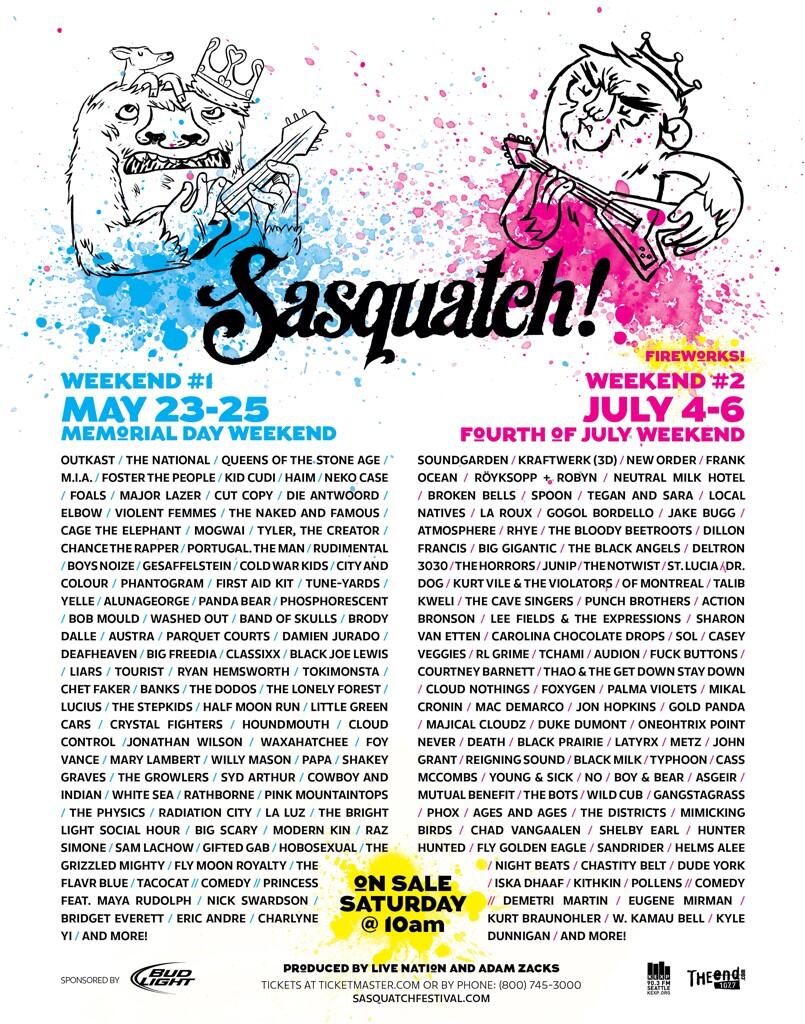 What festivals will you hit this season?

—Maggie Pannacione
02.20.14