SnowBall Music Festival: Pretty Lights, Busta Rhymes and More to Appear
Fri, 28 Feb 2014 14:09:04
Busta Rhymes Photos
Pretty Lights Videos
SnowBall Music Festival rolls into the Mile High City aka Denver in 2014, landing at The Park at Mile High at Sports Authority Field on April 4, 5 and 6. The powers-that-be have announced the festival's first batch of performers.

Colorado's own Pretty Lights will play two sets, while Australian duo Knife Party and electronic music rebel GRiZ will headline SnowBall 2014, with MiMOSA, Busta Rhymes, Warpaint, Yeasayer, STRFKR, Twin Shadow, Jagwar Ma, Wild Belle, Rufus Du Sol, CAKED UP, heRobust, and many others on the bill.

The lineup is below and it's massive and impressive.

Pretty Lights
Knife Party
Griz
PLM Party: Featuring Pretty Lights, Paul Basic, Supervision, Eliot Lipp + Many More
Mimosa
Busta Rhymes
Yeasayer
Warpaint
Brother Ali
STRFKR
Twin Shadow
Jagwar Ma
Kill the Noise
Clockwork
GTA
Lunice
Wild Belle
MK
Kap Slap
The Robust
The Floozies
Henry Fong
Caked Up
Rufus Du Sol
J.Phlip
Afroman
TWRK
Chali 2na (Jurassic 5) & House of Vibe
Option 4
Juan Maclean
Maxxi Soundsystem
Andhim
Escort
Thomas Jack
Justin Jay
Bixel Boys
Wave Racer
Chrome Sparks
Trippy Turtle
Jimkata
Real Magic
Graff
You Me & Apollo
Technicolor Tone Factory
Eminence Ensemble
A Band In Pictures
The Knew
Bones
Bagheera
Proper Motion
Inner Elders
Sunsquabi
Flash/Lights
Tropicool
Keepers
Need & Necessity
Lady Leah
Guillaume

More artists are to be announced. But it's not like a WEALTH of awesome hasn't already been booked!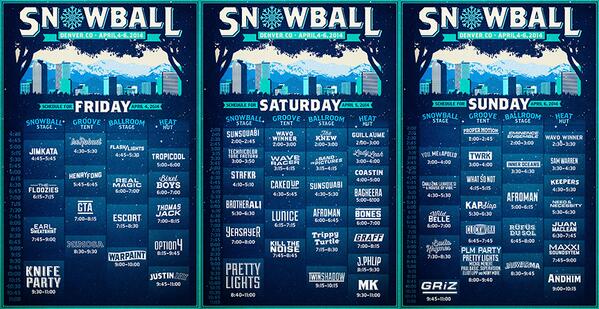 For more info, visit snowballmusicfestival.com.

Will you get rolling with SnowBall?

—Maggie Pannacione
02.28.14