Take Aim: Amy Sciarretto vs. Jack Off Jill's Jessicka & Tenni
Thu, 16 Apr 2015 09:02:58
Jack Off Jill Videos
On Saturday, July 18, at The Orange Peel, in Asheville, North Carolina, riot grrrl band Jack Off Jill are reuniting for one show and a party weekend. It is their first show in 15 years!

We spoke to Jessicka and Tenni about why now and how the reunion is going! Here's the Jack Off Jill edition of Take Aim. Find out how a Southern bathroom shrine to the band was really the impetus for re-revving the JOJ engine.

Was there ONE impetus for this reunion?

Jessicka: Well Tenni lives in Asheville as does Michelle's family. But our friend Vega who is producing a documentary titled GRRRL: 25 Years Of Riot Grrrl needed some footage from the South and suggested we play a show. I think we might be the closest thing to southern Riot Grrrls. Although we prefer the term 'Riot Goth.' Ha! Vega's film and the gas station photo really made sealed the deal for us.

Tenni: About a year ago, someone told me there was a Jack Off Jill shrine on the bathroom door of the ladies room at a gas station in West Asheville. At first, I thought my friends were messing with me, but it turns out the owner's 16 year-old daughter is a big fan of the band and that was her tribute. It was then that I realized we needed a reunion. I was just following the signs.

Jessicka: I think we have been off and on discussing for a few years. It was until Tenni posted the picture of an old Jack Off Jill photo in the gas station.

Michelle Inhell: For me, it was a combination of things, almost like the perfect storm. My personal and professional life are both going really well right now, so my head space is stronger than ever. Tenni, Jessicka and I had been talking a bit, as we have in the past, about getting together to play. I think the thing this time that is different is that this is just about us. No Barracudas, no record company, just us doing only what we want. That, for me, is empowering. After all these years, we are back to just us, making noise and enjoying this special connection that we have together. Chemistry like that cannot be bought or faked so for me it is simply to experience the way it feels when we play together because that has always been the best part.

Is it really going to be just one show? Or do you think you might get bitten by the bug to play even more?

J: Anything is possible, especially the UK. Let's see how the pledge [pledgemusic campaign - Ed.] and the show goes.

Have you started rehearsals? If so, how are they going?

J: We started February, without Michelle, and they went really well. We'll be starting full band rehearsals soon in Los Angeles.


How does it feel stepping back into these buckle boots again? Do you have to relearn the songs? Is it hard?


 Jessicka: I have to be honest it's a little scary. I'm a different person then I was 20 years ago. We all have grown in changed in good ways, I think. Channeling a lot of rage in an authentic way has been challenging, but not impossible. 


What's your take on current music, since so many girl-fronted bands seem to lack a message with their medium?


Jessicka: I'm pretty obsessed with Kitten Forever, Chantal Claret, Girlpool and Slutever. I think these ladies all 'get it.'

And what have you been up to for the past decade-plus?

Jessicka: I started a shoegaze band in 2002 with my husband Christian called Scaling.  I've basically just been working on art 24/7 since Scarling went on hiatus in 2007. It's really all I've ever wanted to do, even before Jack Off Jill. In second grade, I wrote an autobiography saying I was going to move to Paris, even though I'm sure I didn't know where Paris was at the time. I said I was going to move to a small apartment and suffer for my art like Picasso and that began my artistic journey. 

I think one of the major things that has changed is I allow myself to have happy moments. I'm able to recycle my demons into art without  becoming collateral damage. I learned that it's okay to be vulnerable and opening up can be a cathartic process. Instead of actually bleeding my work bleeds rainbows. Becoming a fine artist was always my intention but I think I lacked the focus and self confidence to actually do it until I experienced that personal evolution. Now I'm able to channel my feelings, balancing making art and being in a healthy marriage and having a happy life. That's something I never imagined possible twenty years ago.   

This is enough to get me to N.C. in the height of summer!

For the Asheville show, visit TheOrangePeel.net, and for VIP access and poster, check out Jack Off Jill's PledgeMusic.com campaign.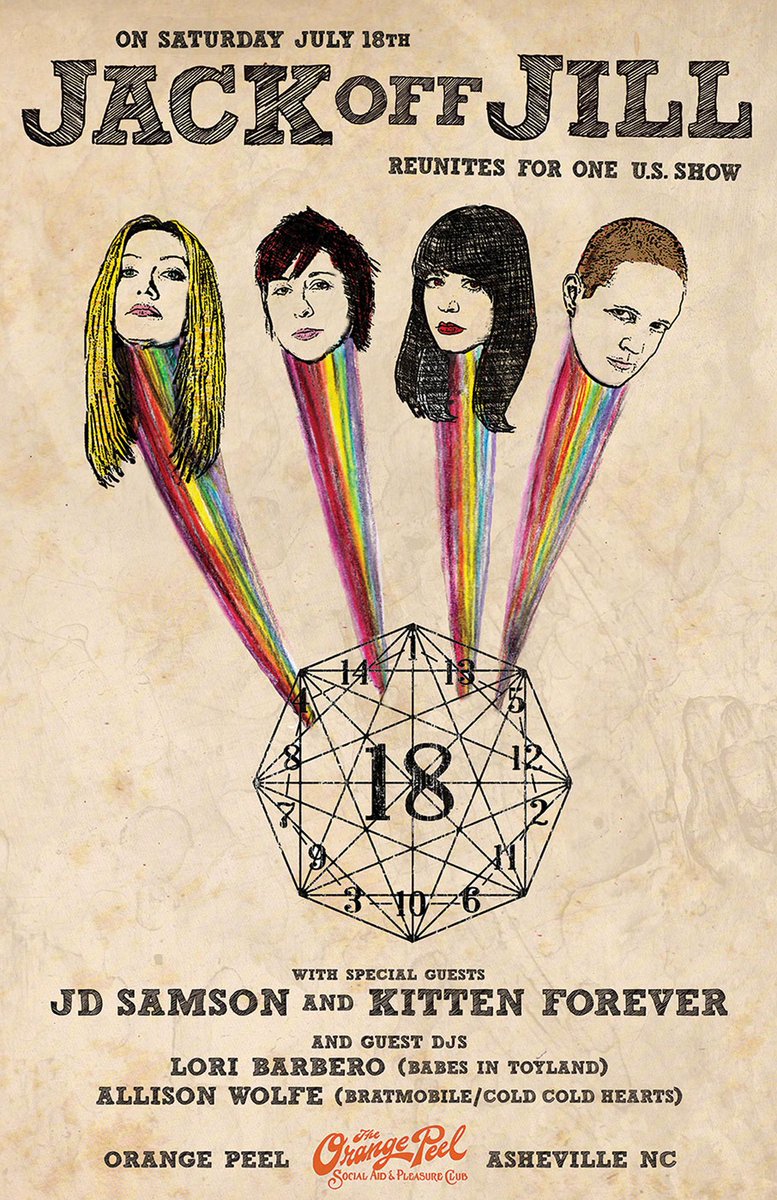 —Amy Sciarretto
04.16.15