ALESSIA CARA PROFILED BY CBS SUNDAY MORNING
Singer-songwriter Alessia Cara on "The Pains of Growing"
Genre : Hip Hop
Type : Interviews
Author : Team ARTISTdirect
Date : Tue, 27 Nov 2018
It's become an anthem for almost anyone who has ever felt like an outsider. Alessia Cara's "Scars to Your Beautiful" is an ode to self-love and acceptance that, she says, has changed her as a young artist as much as it's changed her fans.
She craves attention, she praises an image
She prays to be sculpted by the sculptor
Oh, she don't see the light that's shining
Deeper than the eyes can find it
Maybe we have made her blind
So she tries to cover up her pain and cut her woes away
'Cause cover girls don't cry after their face is made.
"I've had people come out to me for the first time, like, saying, you know, 'I am gay and I've never said that out loud," Cara said. "And for them to feel safe enough to tell me that, through a song of mine, is, like, unbelievable."
She quite literally revealed the song's empowering message during last year's Video Music Awards.
That performance helped explain why her music strikes such a chord, especially with millennials, because it summed up who she is — less the pop star and more the Girl Next Door.
In fact, she may be the only Grammy-winning artist to still live at home with her family in Brampton, Ontario, a quiet suburb outside Toronto.
"I grew up here," she said, showing correspondent Lee Cowan her childhood bedroom, where she still writes some of her songs."
Her fans have gotten to know her bedroom; it's made more than a few cameos in her work. That closet behind her in her YouTube videos is where she used to upload her songs. "If you watch them back, you can see some clothes hanging in the background, and really dim lighting – it was in here!"
She also turned her basement into a make-shift studio. But of all the places in this house where she could compose new work, her favorite is the seclusion of her bathtub.
"God I wish I sounded that good in the bathroom," Cowan said.
"I think everybody can. That's the trick of the bathroom!" said Cara.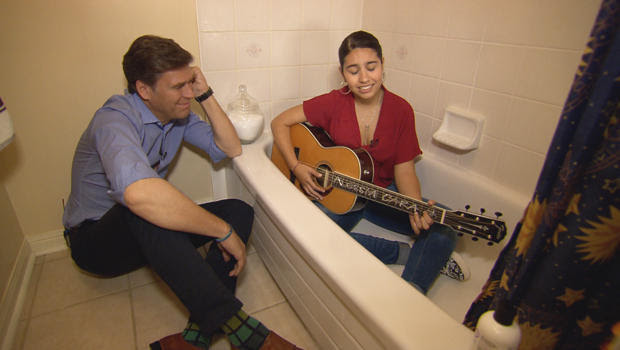 Alessia Cara demonstrating the acoustics of her bathtub, with Lee Cowan.
It's not just because the acoustics are good in here. For Cara, there's something else: "I feel less distracted, and I feel it's a little safe environment to do whatever I want, and no one's around, and it just feels cozy."
Born Alessia Caracciolo, she grew up in an Italian-Canadian family – her mom a hairdresser, her father a welder.
As a child Alessia loved to sing, and she loved the camera. But oddly enough, the older she got and the better her voice got, the more reluctant she was to sing in front of anyone. In fact, she was so shy she would hide it, even from her parents. "The idea of singing for them, seriously, was such a scary thing, 'cause you know, it's your parents! You don't want 'em to think you're weird!"
She was 13 when she retreated to that closet of hers to post cover songs on YouTube. She didn't have a huge number of views, or even a viral hit. But what she did have was that