Electric Forest's 2018 Wish Machine Inspires Global Impact
with 4,500+ Hours Volunteered and Over $75,000 Donated
Genre : More Music
Type: News
Author : Team ARTISTdirect
Date : Fri, 12 Oct 2018
Locally, the 2018 Music in Schools Program Benefits Local Michigan Schools,
and Electric Forest's Food Drive Donates Record Number of Meals
Electric Forest's Plug In Program Offers Most Expansive
and Diverse Fan Participation Opportunities Yet
Leading into Electric Forest (EF) 2018, the 8th annual festival launched a brand-new Plug In fan participation initiative, The EF Wish Machine. The EF Wish Machineencouraged the Forest Family to spread positivity beyond the Forest and into their everyday lives. In exchange, HQ would support their wildest Electric Forest dreams coming true. With over 5,000 wishes submitted, Electric Forest (EF) is proud to report the Global Impact of the Forest Family and the inaugural EF Wish Machine Plug In Program.
Via the wishes submitted, the Forest Family did their part in making our planet a better place. From the USA and South America, to Africa and Asia, a collective 4,500+ hours were volunteered and over $75,000 donated to community improvements and charities around the globe.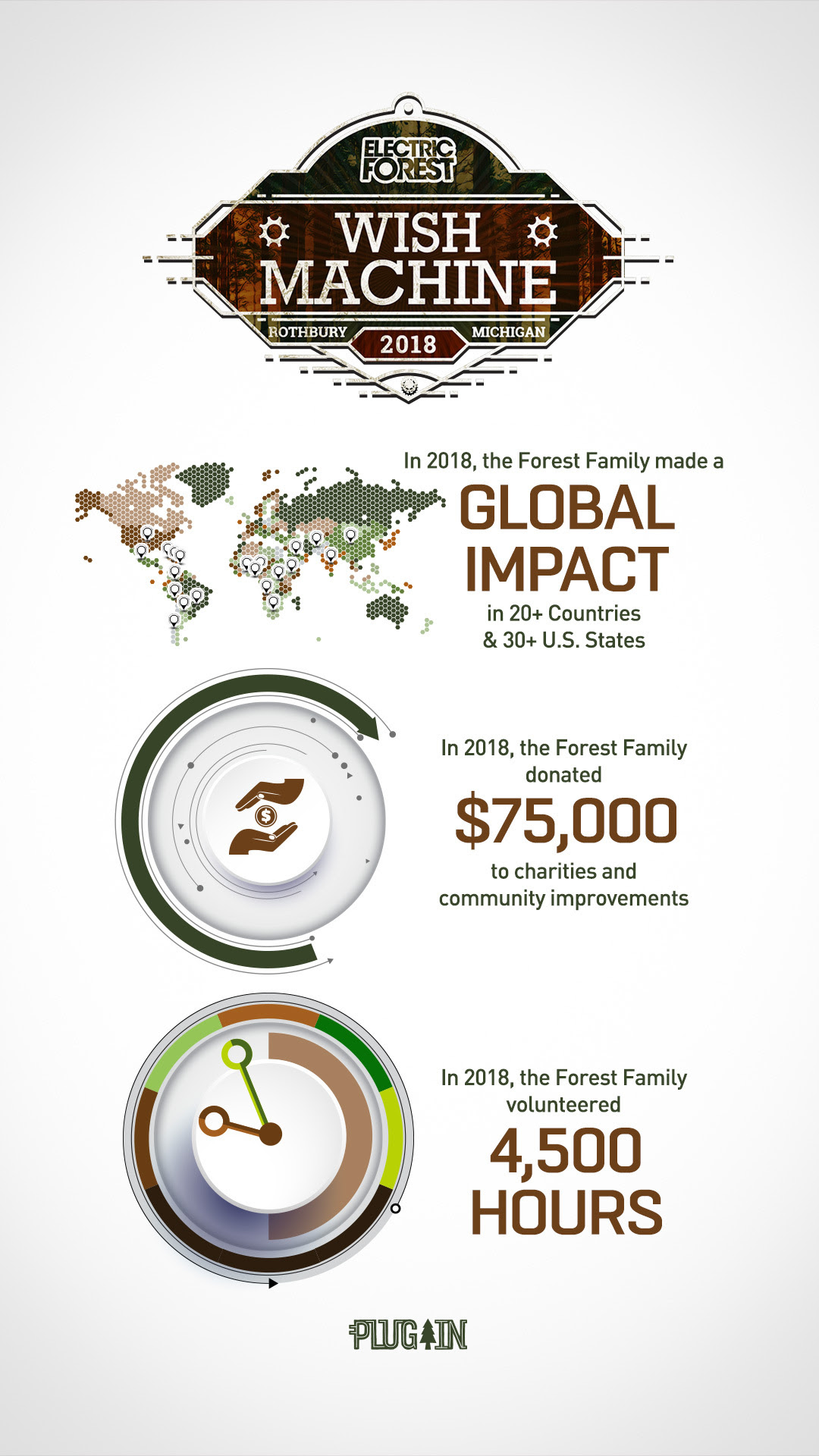 Electric Forest is humbled by how, with open hearts and minds, the Forest Family so fully embraced
The EF Wish Machine
. For 2019, Electric Forest will continue to expand and evolve the program. Learn more about the wishes granted in 2018
here,
and stay tuned for details regarding the 2019 program­­—to be announced soon.
Giving back has always been an important part of Electric Forest and its community. Locally, Electric Forest's
Music In Schools
program­ works to support music education in Michigan public schools. In 2018, Electric Forest donated a total of $20,000 to the following
Music In Schools
recipients: Shelby High School, the David Markiewicz Memorial Foundation Endowment Fund, Montague High School, White Hall High School, and the White Lake Music Society Junior Strings Program. Since its inception in 2012, Electric Forest's
Music in Schools
program has donated $91,000, helping bridge the gap between diminishing school budgets and music program resource needs.
Electric Forest 2018 Food Drive, hosted in partnership with non-profit Conscious Alliance, collected and distributed over 35,700 meals to local Oceana County communities this year—setting a new festival record (over 15,000 meals more than the 2017 event). Each year, Electric Forest's annual Food Drive encourages patrons to donate non-perishable food items in exchange for a limited edition Electric Forest Food Drive Poster. Meals are donated to the Price Family Food Bank, which provides food locally to such organizations as Lebanon Lutheran Church, Rothbury Community Church, Wesleyan Church, Teen Challenge, and many others. To date, Electric Forest has collected and distributed over 245,700 meals to local communities in need.
Support Artist Community at our Purchase Partners
RELATED NEWS