Exclusive Song Premiere: RÜFÜS DU SOL, "Imaginary Air"
Exclusive Song Premiere: RÜFÜS DU SOL, "Imaginary Air"
Genre : More Music
Type: News
Author : Super Admin
Date : Mon, 21 Jul 2014
Happy Monday, ARTISTdirectioners!
Today, we bring you the exclusive premiere of RÜFÜS DU SOL's "Imaginary Air," which will be featured on the upcoming debut album
ATLAS
, which is out August 25.
No need to wait a month. We've got the early scoop here. The pre-order goes live tomorrow, July 22, and the song will be available as an instant grat for all those who pre-order. So listen here and now, pre-order tomorrow and own it early and in advance of the August release date.
Enjoy the hypnotic synths and utterly enchanting beats. The trio's version of down-tempo alternative is distinct and unique, and the song's rising and falling tension leads to ominous sonic thrills.
The band will also be here this fall for a headline tour of the U.S.
ARTISTdirect.com editor in chief Rick Florino puts it best though, "RÜFÜS DU SOL craft otherworldly dreamscapes that you'll want to fall into again and again. The music stands out as both blissful and beautiful, bringing together a myriad of sounds into one elegant and entrancing pastiche. This is by far one of the year's most gorgeous albums."
Get ready to feel the "Imaginary Air"!
Listen below!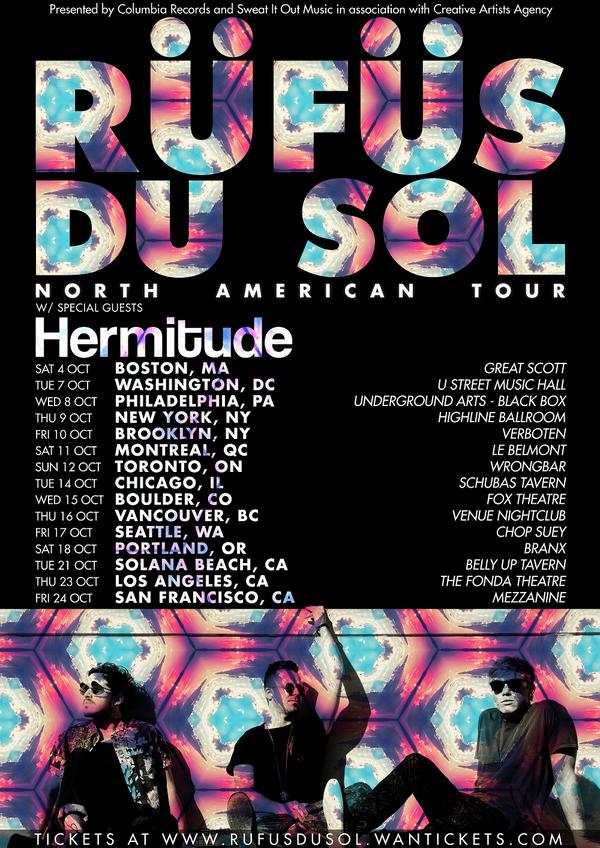 Did you take a deep breath of "Imaginary Air?"
—Amy Sciarretto
07.21.14
Check out RÜFÜS DU SOL's
Facebook
,
Twitter
, and
web site
!
Support Artist Community at our Purchase Partners
RELATED NEWS