Dave Matthews Band Touring in Summer 2014
Dave Matthews Band Touring in Summer 2014
Genre : Rock
Type: News
Author : Super Admin
Date : Wed, 15 Jan 2014
Summer means one thing – a
Dave Matthews Band
tour. But Summer 2014 marks a different set up for a DMB summer tour.
"A Very Special Evening with Dave Matthews Band" will feature the group delivering two sets per evening, performing songs from throughout its career.
DMB will experiment with numerous configurations - from electric to acoustic, from full-throttle numbers featuring the entire band to more intimate moments featuring small groups of band members - including a stripped-down pairing of Matthews with guitarist
Tim Reynolds
, performing as an acoustic duo, as they occasionally do when the band is off the road. A variety of guests will join the band throughout the summer.
Sounds awesome and "can't miss" to us.
"I was talking to Carter about how much I still like just sitting around playing music together. It's how we started - in the basements of Carter's and my mom's houses," said vocalist/guitarist
Dave Matthews
. "Our shows are loose, but we started thinking that maybe this summer we should make them looser and bring some of that feeling to the stage. It seems like the opposite of a safe plan, so why not?"
"Everyone was really psyched about the idea, so we've been busy figuring out how to turn it into the best possible experience for our fans," says drummer
Carter Beauford
.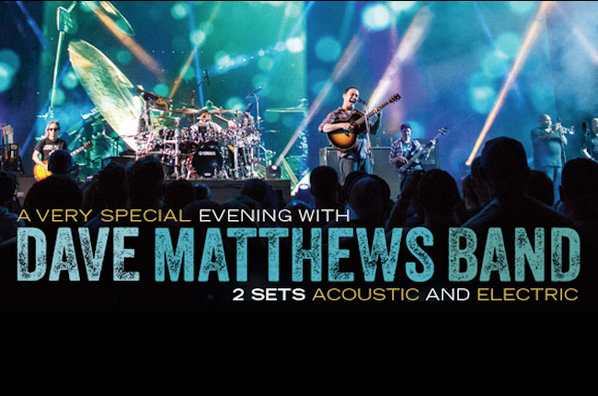 2014 Dave Matthews Band Tour
Date City/State/Province Venue Public On Sale Date
5/16 Woodlands, TX Cynthia Woods Mitchell Pavilion 2/7, 10 AM local time
5/17 Dallas, TX Gexa Energy Pavilion 2/7, 10 AM local time
5/21 Tulsa, OK Bok Center 2/7, 10 AM local time
5/23 Pelham, AL Oak Mountain Amphitheatre 2/7, 10 AM local time
5/24 Atlanta, GA Aaron's Amphitheatre @ Lakewood 2/7, 10 AM local time
5/30 Saratoga Springs, NY Saratoga Performing Arts Center 2/7, 10 AM local time
5/31 Saratoga Springs, NY Saratoga Performing Arts Center 2/7, 10 AM local time
6/6 Bangor, ME Darling's Waterfront Pavilion 2/7, 10 AM local time
6/7 Mansfield, MA XFINITY Center 2/7, 10 AM local time
6/10 Holmdel, NJ PNC Bank Arts Center