3 Reasons: Drive-By Truckers Prep Fall Tour; Live Album
3 Reasons: Drive-By Truckers Prep Fall Tour; Live Album
Genre : More Music
Type: News
Author : Super Admin
Date : Tue, 21 Jul 2015
Headline gigs, plus supporting Alabama Shakes and a massive live set are on the docket.
Drive-By Truckers
have completed their The Dirt Underneath Tour, a sit-down halfway acoustic set. But they aren't staying seated or letting grass grow under their boots. They are ready to bring the rock show back for a full fall run and a summer of dates with the
Alabama Shakes
.
They also have new music on the way.
Here are three reasons we are stoked about the tour and the new material!
• The band is also currently putting its finishing touches on a special five LP/three CD deluxe live album with producer
David Barbe
, recorded at the historic Fillmore Auditorium in San Francisco. Huzzah! That's a lot of material, but fans cannot wait to gobble it up.
• The Truckers will continue to perform songs from their entire career. Yeah, that's totally a reason to go.
• The Truckers'
Patterson Hood
said, "Every song on this record connects with another song. I noticed Cooley's got a line in 'Primer Coat' about 'apron strings,' and I have the exact same image in one of my songs, 'Hanging On.' It goes on and on and on like that on this record, and that's a pretty good sign for things, particularly given how different our temperaments are and our styles of writing are."
Drive-By Truckers Tour Dates:
8/15 - Edwards, CO - EDFEST at Freedom Park
8/16 - Morrison, CO - Red Rocks Amphitheatre*
8/18 - Dallas, TX - Verizon Theater at Grand Prairie*
8/20 - Tuscaloosa, AL - Tuscaloosa Amphitheater*
8/22 - Orange Beach, AL - Amphitheater at the Wharf*
9/11 - Urbana, IL - Krannert Center for the Performing Arts Guitar Festival
9/12 - Bloomington, IN - Bluebird Nightclub
9/13 - Newport, KY - Southgate House Revival
9/15 - Greensboro, NC - The Cone Denim Center
9/17 - Philadelphia, PA - Mann Center for the Performing Arts*
9/18 - Washington DC - Merriweather Post Pavilion*
9/19 - New York, NY - Forest Hills Stadium*
10/9 - Augusta, GA - Jessye Norman Amphitheater
10/10 - Orlando, FL - The Plaza Live Theatre
10/11 - Petersburg, FL - The State Theatre
10/13 - Pensacola, FL - Vinyl Music Hall
10/15 - Austin, TX - The Scoot Inn
10/16 - New Braunfels, TX - Gruene Hall
10/17 - New Orleans, LA - Joy Theater
10/20 - Little Rock, AR - Revolution Music Room
10/21 - Baton Rouge, LA - Varsity Theatre
10/22 - Hattiesburg, MS - Brewsky's
10/23 - Memphis, TN - New Daisy Theatre
10/24 - St. Louis, MO - The Pageant
* with Alabama Shakes
Tickets and more info
: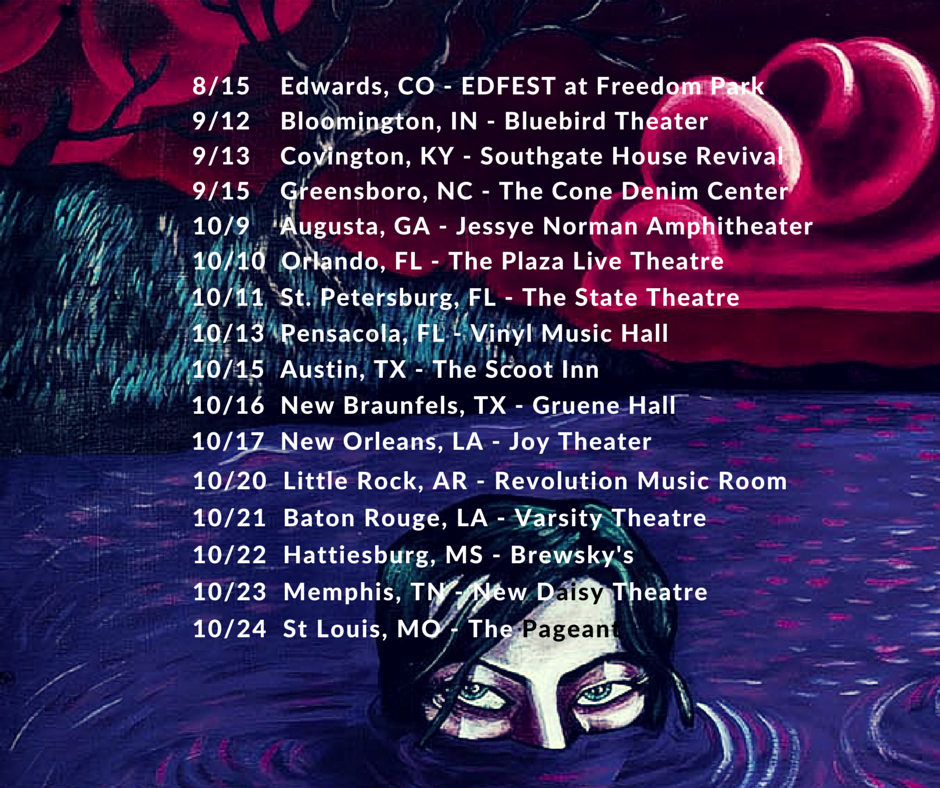 It's high time for a Drive-By.
—Amy Sciarretto
07.21.15