Obituary: George Jones Dead at 81
Obituary: George Jones Dead at 81
Genre : Country
Type: News
Author : Super Admin
Date : Fri, 26 Apr 2013
It is with a heavy heart that we report that Country Music Hall of Famer, Grand Ole Opry member and Kennedy Center Honoree
George Glenn Jones
died today, Friday, April 26, 2013, at Vanderbilt University Medical Center in Nashville, Tennessee. Jones was 81.
Tweets were fast this morning from many in and out of the Nashville scene, and the following just scratch the surface:
Merle Haggard
tweeted
: 'The world may have lost the greatest country singer that ever lived.'
From
Aaron Lewis
offered
: 'Sad to hear of the passing of one of the all-time greats,
George Jones
. It was an honor to have him on "Country Boy" RIP, Possum. - AL'
Superstar
Dolly Parton
said
: 'My heart is absolutely broken. George Jones was my all time favorite singer and one of my favorite people in the world. My heart goes out to Nancy and the rest of his family.'
Carrie Underwood
tweeted
: 'Happy memory of me and George. You may have left us, but your music and your legacy never will. #Legend'
Carrie also tweeted this nice pic: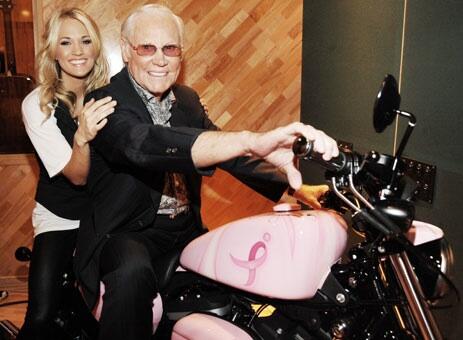 Brad Paisley
said this
: 'My friend,the greatest singer of all time,has passed.To those who knew him,our lives were full. To those of you who don't: discover him now.'
Tom Morello
of
Rage Against the Machine
and
The Nightwatchman
said
: 'RIP country titan George Jones. Raw honest music.'
Jennifer Nettles
of
Sugarland
tweeted
: 'I'll never forget the first time I heard the story in "He Stopped Loving Her Today". RIP George Jones. Country Legend. U will be missed.'
Nikki Sixx
of
Mötley Crüe
and
Sixx: A.M.
said simply
: 'RIP George Jones. What a huge loss to music.'
...and from George's own
twitter account
: 'You can share your love, prayers and memories with Nancy at thelegend@georgejones.com'
Enjoy some George Jones today:
Rest in Peace, George, rest in peace...
—Maggie Pannacione
04.26.13