Hot Chip's Alexis Taylor to Release New Solo Album in June
Hot Chip's Alexis Taylor to Release New Solo Album in June
Genre : Electronic
Type: News
Author : Super Admin
Date : Wed, 16 Apr 2014
Hot Chip
's
Alexis Taylor
will release his second solo album and first for Domino Records, titled
Await Barbarians
, on June 10.
There is a special intimacy to the lyrics of Alexis Taylor's
Await Barbarians
, a simplicity and candor in his expression of emotion, though the moments of honesty are matched with a sense of humor, playfulness and fun.
Playing and recording all the instruments himself apart from strings, Taylor also presents a more reflective side of his writing and singing, which comes into focus in a more confident and defined manner than before.
Want to hear it for yourself? Check out the track "Elvis Has Left the Building."
Await Barbarians
Track Listing:
Lazy Bones
From the Halfway Line
Without a Crutch (2)
Immune System
Dolly and Porter
Closer to the Elderly
Elvis Has Left the Building
Piano Ducks
New Hours
Where Would I Be?
Am I Not A Soldier?
Without A Crutch (1)
He is also touring as part of the
William Onyeabor
Tribute/Revue alongside
David Byrne
,
Money Mark
and others performing the songs of Mr. Onyeabor. It's spring – go see a show.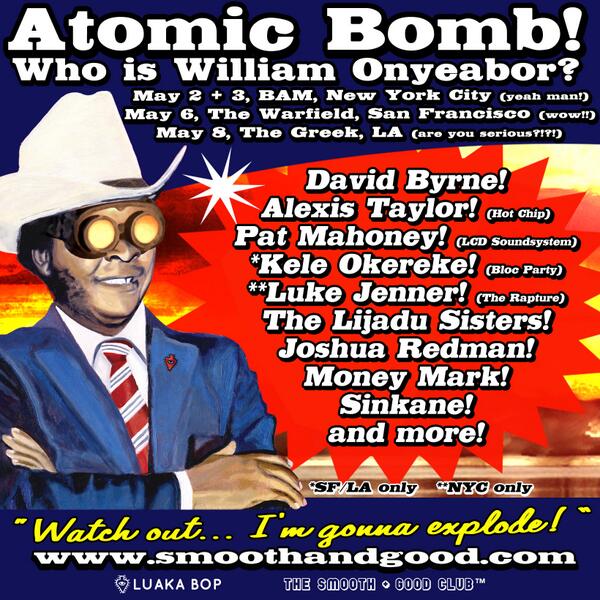 Here's Hot Chip remixing William Onyeabor for a special Record Store Day release:
William Onyeabor Atomic Bomb Tour Dates:
May 2 New York, NY @ BAM Howard Gilman Opera House
May 3 New York, NY @ BAM Howard Gilman Opera House
May 6 San Francisco, CA @ The Warfield
May 8 Los Angeles, CA @ Greek Theatre
Alexis Taylor Tour Dates:
Fri 23/05/14: Hay on Wye – The Globe
Sun 25/05/14: London – The Ace Hotel – SOLD OUT
Sat 31/05/14: Glasgow – The Wee Chill
Thur 12/06/14: London – The Vortex
Wed 18/06/14: Leeds – The Brudenell
Thu 19.06/14: Manchester – Band On The Wall
Fri 20/06/14: London – Roundhouse Studio
Fri 18/07/14: Eigg – Howlin' Fling – SOLD OUT
Fri 29/08/14: Shaftsbury – End Of The Road Festival
Sat 06/09/14: Portmeirion – Festival Number 6
For more tour info, visit
hotchip.co.uk
.
Will you check out
Await Barbarians
?
—Maggie Pannacione
04.16.14