Justin Bieber Defends Wearing Overalls to Meet Canadian Prime Minister
Justin Bieber Defends Wearing Overalls to Meet Canadian Prime Minister
Genre : Electronic
Type: News
Author : Super Admin
Date : Wed, 28 Nov 2012
Justin Bieber
has defended himself against a British writer named Hayley Peterson, who referred to him as a "white trash prince" in
The Daily Mail
. The Biebs was awarded Canada's Diamond Jubilee Metal –he was one of several thousand- and he was dressed down when he met with Prime Minister Stephen Harper to accept his award.
He posted a note on Instagram, writing: "The pic of me and the Prime Minister was taken in a room in the arena where i was performing at that day. I walked straight from my meet and greet to him, if you 'Hayley' expect me to have a change of clothes let a loan [sic] a suit at that specific time that's crazy, It wasn't like it was like I was going into his environment we were at a hockey arena. Wow am i ever white trash hayley peterson lol."
Okay, so that makes sense.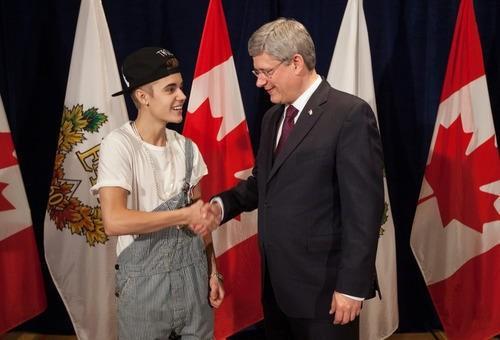 What is your favorite Justin Bieber song?
—Katie Sheehan
11.28.12