Justin Bieber Receives Canada's Diamond Jubilee Medal
Justin Bieber Receives Canada's Diamond Jubilee Medal
Genre : Electronic
Type: News
Author : Super Admin
Date : Mon, 26 Nov 2012
Canadian Prime Minister Stephen Harper awarded
Justin Bieber
a Diamond Jubilee medal in Ottawa last week.
The medal was created this year to mark the 60th anniversary of Queen Elizabeth II's accession to the throne, according to
The Edmonton Sun
.
Bieber, an Ontario native, is one of 60,000 Canadians to receive the medal, which honors "significant contributions and achievements by Canadians."
Harper tweeted about the event and handing over the medal to The Biebs, posting: "Was happy to present @justinbieber with a Diamond Jubilee Medal today."
The Biebs was criticized for wearing overall with one strap down while accepting his award. He was dressed poorly upon receipt of his accolade.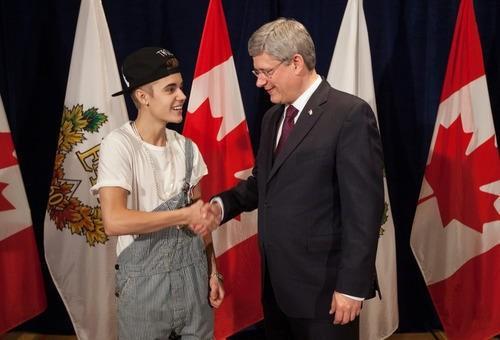 Who is your favorite Canadian?
—Katie Sheehan
11.26.12