3 Reasons: Kodaline Tour North America This Fall
3 Reasons: Kodaline Tour North America This Fall
Genre : More Music
Type: News
Author : Super Admin
Date : Wed, 22 Jul 2015
See the dates and check out some songs.
Dublin-bred rock band
Kodaline
will hit the road to support their sophomore album
Coming Up for Air
.
We love these boys. Here are three reasons to go see the live. We never steer you wrong.
1. The album has been released as a digital deluxe edition featuring three new songs: "Caught In the Middle," "War" and "Moving On." There is also an acoustic version of their hit single "Honest." So there is a lot of activity on planet Kodaline, which is thrilling. More Kodaline music? Never a bad thing. EVER!
2. Kodaline, made up of childhood friends — Steve Garrigan (lead vocals) Mark Prendergast (guitar), Jason Boland (bass) and Vinny May (drums). They return to North America for their fourth headline tour! They clearly love us.
3. Their song "The One" slays. So does "Ready," the video of which has a rad star. U2 are not the only awesome band from Ireland.
Check out their single "The One."
And the video for "Ready." It features Christopher Mintz-Plasse of
Superbad
.
Kodaline Tour Dates:
9/18/15 Atlanta, GA Music Midtown (Piedmont Park)
9/19/15 Carrboro, NC Cat's Cradle
9/20/15 Baltimore, MD Soundstage
9/21/15 Providence, RI The Met
9/23/15 Halifax, NS Rebecca Cohn Theatre
9/25/15 Quebec City, QC Imperial
9/26/15 Laval, QC MRCY Festival (Espace)
9/27/15 Ottawa, ON Algonquin Commons Theatre
9/29/15 London, ON London Concert Theatre
9/30/15 Cleveland, OH House of Blues
10/1/15 Indianapolis, IN Deluxe at Old National Centre
10/2/15 Cincinnati, OH Bogart's
10/4/15 Nashville, TN 3rd and Lindsley (with WRLT)
10/6/15 Minneapolis, MN First Ave
10/7/15 Madison, WI Majestic Theatre
10/8/15 St. Louis, MO The Ready Room
10/9/15 Kansas City, MO KC Power and Light District Outdoor Stage (with KRBZ)
10/10/15 Denver, CO Gothic Theatre
10/12/15 San Diego, CA House of Blues
10/14/15 Anaheim, CA House of Blues
Good Old War
support many of the dates. Check local listings.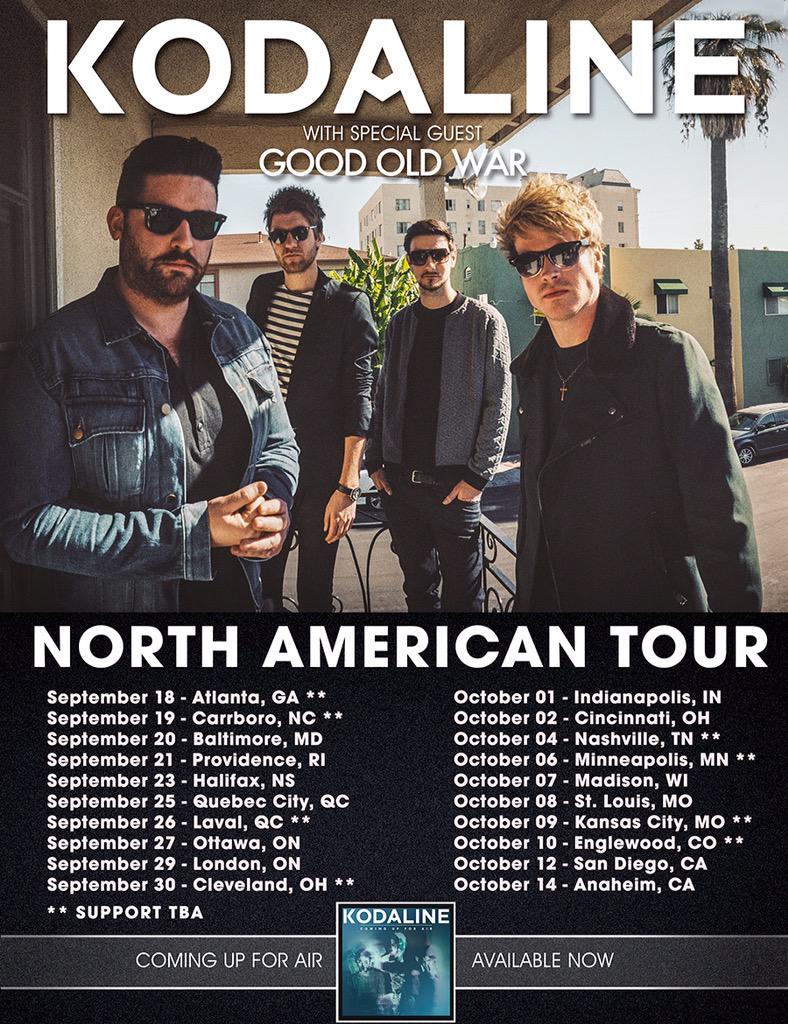 Kodaline are coming!
—Amy Sciarretto
07.22.15'Coming Up For Air' from Kodaline is available via RCA Records.