Lady Gaga Reveals How Born Brave Bus Will Work
Lady Gaga Reveals How Born Brave Bus Will Work
Genre : Electronic
Type: News
Author : Super Admin
Date : Wed, 02 Jan 2013
Lady Gaga
has explained how the Born Brave bus will function at the upcoming North American leg of her Born This Way Ball tour.
She tweeted details, which are below:
"For those wondering about the 'counseling' at the BTWBall BornBrave pre-show, it will be a fun tailgating experience for monsters to unite."
So it will be unifying and like a sporting event.
She then shared: "At the #BornBraveBus you have access to professional private or group chats about mental health, depression, bullying, school & friends," revealing that it will help as little or as much as a little monster wants.
"#BornBraveBus there will also be food and games, @djws and @ladystarlightny will DJ with host @BREEDLOVENYC to keep the experience fun," she shared, as well.
But most importantly, she wrote: "#BornBraveBus Is a place where mental health + depression are taken seriously w/ no judgement, FREE real help available to all #BraverWorld."
The reason she came up with this concept? "I feel like most kids don't look for help because they feel embarrassed so mom + I wanted to break the stigmas around "help" and make it fun," she tweeted.
Check out this rendering of how the Born Brave Bus set up may look: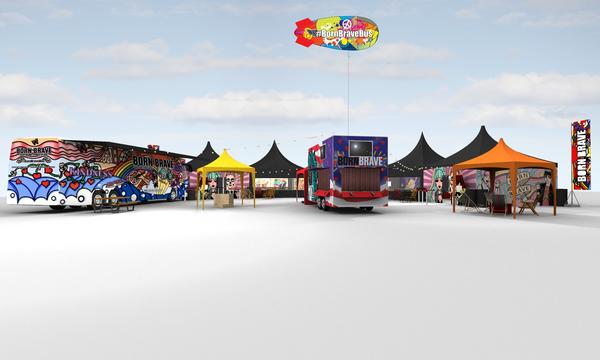 Anyone planning to catch the Lady Gaga Born This Way Ball tour in January through March? What do you think of her efforts to remove the stigma from mental health facilities?
—Maggie Pannacione
01.02.13