LCD Soundsystem, Arcade Fire & The Killers To Headline WayHome Festival
LCD Soundsystem, Arcade Fire & The Killers To Headline WayHome Festival
Genre : Electronic
Type: News
Author : Super Admin
Date : Wed, 10 Feb 2016
WayHome Music & Arts Festival has just announced its lineup, and it includes some of music's biggest names. Arcade Fire, LCD Soundsystem, and The Killers have been announced as the headliners for the three day event set to take place July 22-24 in Oro-Medonte, Canada. [about 90 minutes north of Toronto]
To go along with those three, em, killer headliners, the Ontario festival has also revealed the rest of the bill, which includes M83, Major Lazer, Chet Faker, Haim, Chrvches, FKA twigs, Wolf Parade, Beirut, Future, The Last Shadow Puppets, Foals, Kurt Vile & The Violators, Vince Staples, Savages, Unknown Mortal Orchestra, White Denim, and more.
Over at its website, WayHome promises a different festival experience with this statement: "This is not the music festival you think it is. We are about what happens when different and interesting people come together. We are making this about music, food, art and film. And we're making it a place for people who love one or all of those things to come together to make a kaleidoscope of sound, smell, colour, and spectacle."
WayHome Music & Arts Festival is a summer fest newcomer, ringing in a second year after a successful 2015 lineup that featured Sam Smith, Kendrick Lamar, Alt-J, Modest Mouse, and Hozier. According to Billboard, the event was conceived to fill "a niche in the robust entertainment market, where [Canadian promoter] Republic Live has already made its mark in the country music business through the Boots & Hearts festival" as "an international destination festival on the scale of a Bonnaroo or a Coachella," Republic Live executive director Shannon McNevan says.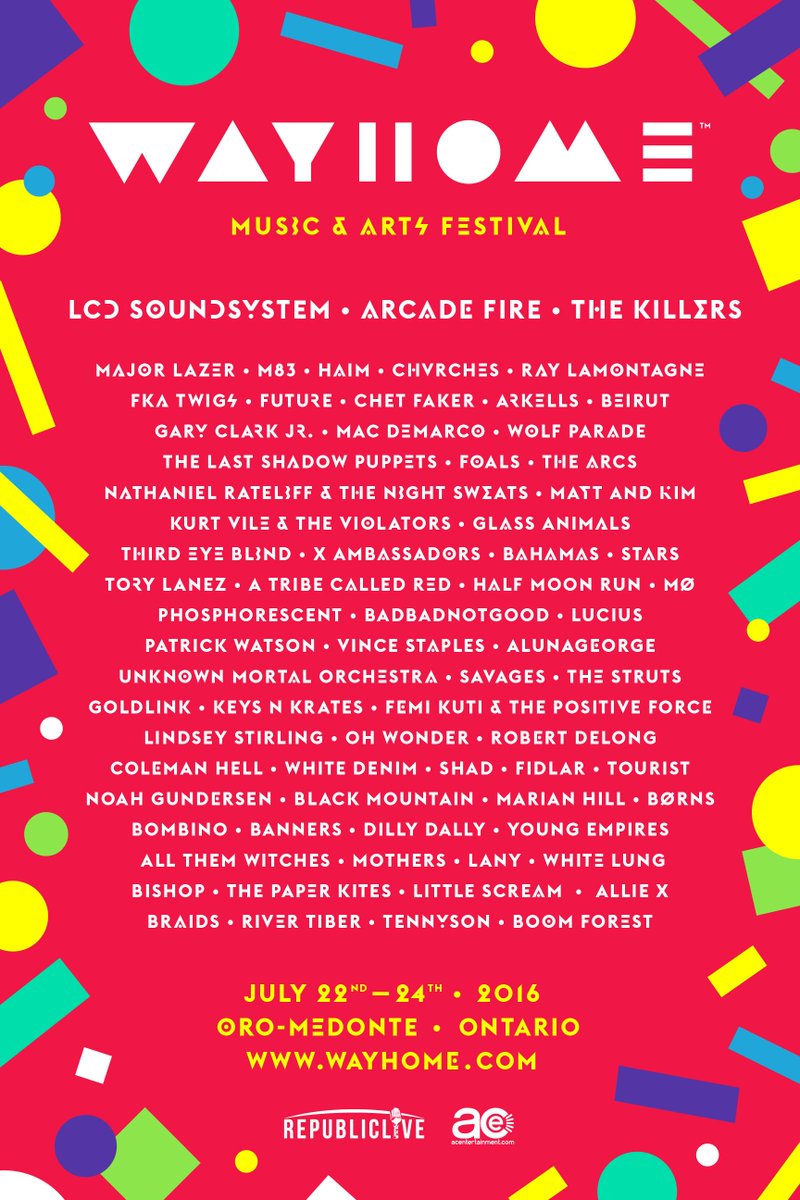 —The ARTISTdirect Staff
02.10.16
For more on this summer's festivals, check out:
Bonnaroo 2016 Lineup Released
Coachella 2016 Lineup Released
Buy LCD Soundsystem music on iTunes
Buy Arcade Fire music on iTunes
Buy The Killers music on iTunes