3 Reasons: Down the 'Rabbit Hole' With Lotus Crush
3 Reasons: Down the 'Rabbit Hole' With Lotus Crush
Genre : More Music
Type: News
Author : Super Admin
Date : Thu, 02 Jul 2015
Attention Terry Mac and Candlebox fans!
Alt rockers
Lotus Crush
released
Rabbit Hole
earlier this year. Did you miss it? Then consider this your alarm clock since you snoozed! No more snooze buttons. It's time to wake up from that slumber and get some Lotus Crush flowing in your ears and through your veins.
If you are not familiar with these dudes, well, let's fix that and tell you three reasons you need to check them out.
1. The band is awesome. It features Scotland-born vocalist
Terry McDermott
, who shot to fame as a member of Team Blake and a Season 3 runner-up on NBC's hit
The Voice
, along with former
Candlebox
members.
2. The band's sophomore effort
Rabbit Hole
, is out now via Cavigold Records. Watch the band's video for "Hearts and Minds," featuring actor C. Thomas Howell, below. Yes, your read that right. We said C. Thomas Howell, the actor from
Soul Man
and
The Outsiders
. He is right up there with Corey Feldman in terms of iconic '80s stars and he crushes it in this video. You HAVE to watch it! C.TH, yo!
3. Their history is rich and their chemistry cannot be denied. Back in 2006, McDermott was fronting a band called
Driveblind
, who had just dropped their self-titled, major label debut. Invited to support multi-platinum alternative rock luminaries Candlebox on tour, the frontman forged an instant bond with Candlebox's members, sharing a love for Pink Floyd, The Verve and other British heavyweights. Unfortunately, Driveblind disbanded, with McDermott relocating to New Orleans. However, on a whim in 2010, he reached out to his comrades about doing a project together and thus Lotus Crush were born with
Peter Klett
and
Scott Mercado
. They released
Half Light Morning
in 2011 and began gigging. They paused, rebooted in 2014 and now they are back.
Okay, so let's get a look at C. Thomas Howell in that "Hearts and Minds" video, shall we?
Great actor, awesome music! That's a combo we like here at ARTISTdirect.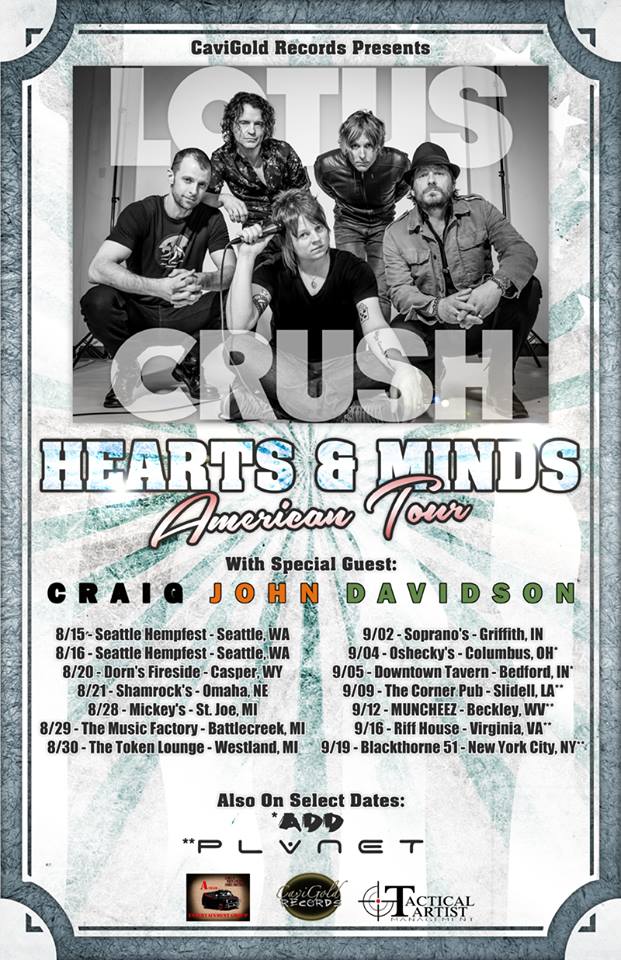 Who has a Crush? A Lotus Crush!?
—The ARTISTdirect Staff
07.02.15'Rabbit Hole' by Lotus Crush is available on Cavigold Records.