3 Reasons: Tremonti & Trivium Set for HardDrive Live Tour
3 Reasons: Tremonti & Trivium Set for HardDrive Live Tour
Genre : Rock
Type: News
Author : Super Admin
Date : Tue, 11 Aug 2015
See the dates
The 2015 HardDrive Live Tour is set to hit the road this coming September, with
Tremonti
and
Trivium
are confirmed as co-headliners for the upcoming 33-city run. More dates will be added soon.
Rock will live this fall. Want three reasons to go to this tour? Alright. We've got 'em.
1.
Mark Tremonti
, formerly of
Creed
and currently of
Alter Bridge
, is one of the most underrated rock guitarists there is. This is his project and he is stoked to support it on the road. "We are really happy to be partnering up once again with HardDrive for our upcoming US tour," the guitarist said. "We are equally as excited to tour with an awesome band as co-headliner. Our friends in Trivium!"
2. Those kids in Trivium have grown up and they STILL shred. Hard. Like wheat. Get the cereal reference? "We in Trivium are incredibly excited to be going on tour with Tremonti," said Trivium vocalist and guitarist, Matt Heafy. "It's awesome to see two fellow metal and rock bands that are grown from metal, grown from the same bands, grown from the same hometown, to be able to go out and show the world our own brand of metal and show the world what we love to do and how we love to do it. We can't wait to see everyone out there; we know it's going to be a great time!"
3. Rock is a live! Rock is not dead. Rock 'n' roll ain't noise pollution. This tour proves it. This is one helluva shredtacular tour.
2015 HardDrive Live Tour Dates with Trivium, Tremonti and special guests
Wilson
:
Sept. 9th Ft. Lauderdale, FL Culture Room
Sept. 11th Lake Buena Vista, FL House Of Blues
Sept. 12th Tampa, FL The Ritz Ybor
Sept. 13th Atlanta, GA The Masquerade
Sept. 15th Winston-Salem, NC Ziggy's
Sept. 16th Wilmington, NC Ziggy's By The Sea
Sept. 18th Hartford, CT The Webster
Sept. 19th Hampton Beach, NH Hampton Beach Casino Ballroom
Sept. 20th Patchogue, NY The Emporium
Sept. 22nd Toronto, ON Phoenix Concert Theatre
Sept. 23rd Sayreville, NJ Starland Ballroom
Sept. 25th Baltimore, MD Baltimore Sound Stage
Sept. 26th Cleveland, OH Agora Theatre
Sept. 28th Pontiac, MI The Crofoot
Sept. 29th Chicago, IL Concord Music Hall
Sept. 30th Minneapolis, MN Mill City Nights
Oct. 2nd Green Bay, WI The Sandlot Entertainment Complex
Oct. 4th Sauget, IL Pops Nightclub
Oct. 6th Dallas, TX Bomb Factory
Oct. 7th Houston, TX Warehouse Live
Oct. 8th San Antonio, TX Alamo City Music Hall
Oct. 10th Mesa, AZ Club Red
Oct. 11th Las Vegas, NV Hard Rock Live
Oct. 12th West Hollywood, CA The Roxy*
Oct. 14th San Francisco, CA The Regency Ballroom
Oct. 15th Reno, NV Knitting Factory Concert House
Oct. 17th Seattle, WA Studio Seven
Oct. 18th Spokane, WA Knitting Factory Concert House
Oct. 20th Denver, CO The Summit Music Hall
*-Trivium not on this date, as they are at Knotfest on Oct. 24 in San Bernardino.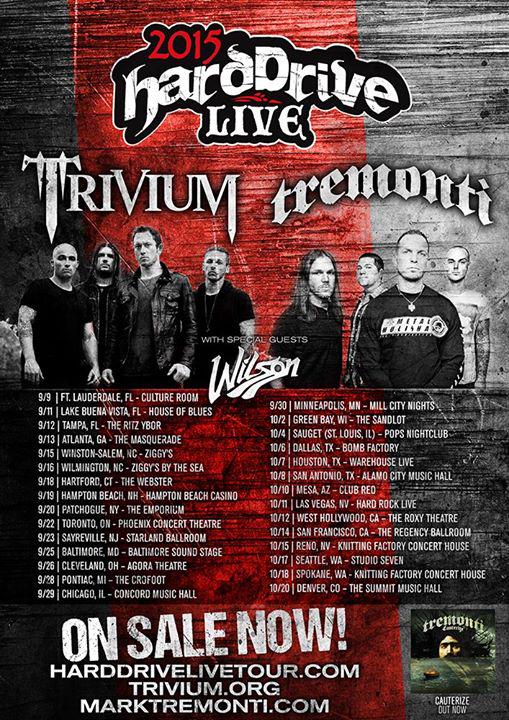 It's time to shift into HardDrive.
—Amy Sciarretto
08.11.15