Feature: Neff and Taylor Gang Make Fly Clothes
Feature: Neff and Taylor Gang Make Fly Clothes
Genre : More Music
Type: News
Author : Super Admin
Date : Thu, 05 Jun 2014
As Neff continues to expand in the music world, the premier lifestyle outfitter chose the perfect partner for its scorching summer line. The Southern California brand just inked a collaboration deal with
Wiz Khalifa
's Taylor Gang Ent., and you can already purchase items from the 26-piece apparel collection exclusive at
Zumiez online
and in stores today. Taylor Gang artists all left their imprint on this super-fly line which encompasses everything from t-shirts and jerseys to hats.
It's indisputable that in addition to possessing one of the smoothest flows in the game right now, Wiz Khalifa remains one of rap's best dressed. By confidently carrying his own style with a flare for standing out yet remaining cool, he's become a veritable fashion icon and deservedly so. The fact that he's teamed up with Neff is a massive deal, and this is the best way for everyone to up their own apparel game this summer—by wearing Neff x Taylor Gang. Also, in case you needed a refresher, Taylor Gang Ent. includes Wiz Khalifa,
Ty Dolla Sign
,
Berner
,
Chevy Woods
,
Courtney Noelle
, J.R. Donato, and
Tuki Carter
.
Wiz and the team also appear in this enthralling little spot too. Get familiar with the line now!
Plus, Neff wants to give everybody a chance to hang with Taylor Gang via this contest. Enter for a chance to win now at
zumiez.com
!
What are you waiting for? Start ordering this line now as it further elucidates Neff's cultural impact and prescient sense of what's hot. Rock Taylor Gang x Neff this summer and get noticed!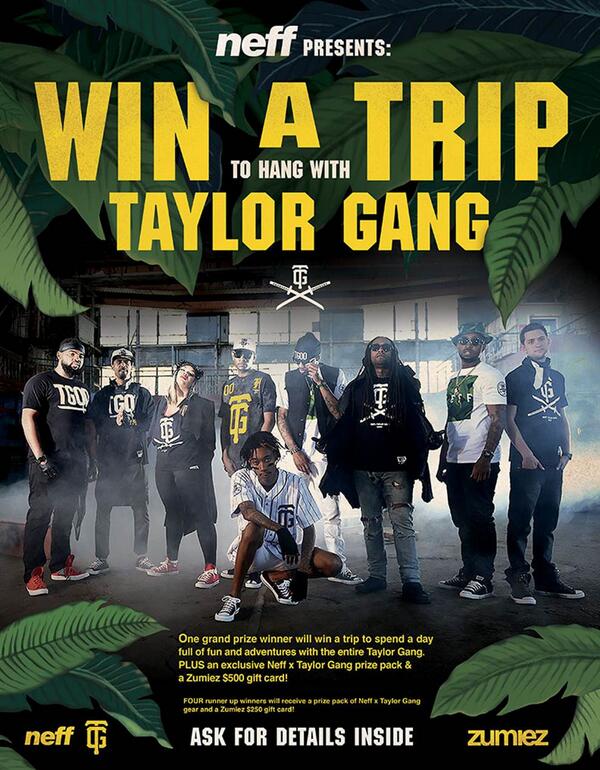 —Rick Florino
06.05.14
Will you be picking up some of these items?