Veronica Ballestrini Named Ambassador of Davy Crockett's Cookies and Cream Whiskey
Veronica Ballestrini Named Ambassador of Davy Crockett's Cookies and Cream Whiskey
Genre : More Music
Type: News
Author : Super Admin
Date : Mon, 08 Sep 2014
In conjunction with the release of her current single "Cookies and Cream," country singer
Veronica Ballestrini
has been named brand ambassador for Davy Crockett's Cookies & Cream Whiskey.
Cookies & Cream-flavored whiskey? That's, uh, interesting, right! We'll try anything once or 10 times. We'll definitely take a slug of this bevvie. We like sweet and hard liquor.
Send us a sample, PR peeps!
Based in Gatlinburg, Tennessee, the distillery chose to partner with Ballestrini as she continues her travels across the country visiting radio in support of her single.
"I'm so thrilled to be entering into this partnership with Davy Crockett's distillery," said Ballestrini. "I not only have a single that I'm proud to be delivering to my friends at radio, but I also have some great whiskey that I'm packin'. My friends at radio better watch out – they haven't tasted any whiskey like this!"
Chuck Edwards of Davy Crockett's Whiskey added, "Davy Crockett's Cookies and Cream Whiskey is proud to be partnering with Veronica. Her strong social media presence and her ability to connect with her fans, along with the release of her single 'Cookies and Cream,' made a partnership with her just seem natural."
Ballestrini's sophomore album
Flip Side
is out now!
Check out the song below! It's as good as the whiskey flavor.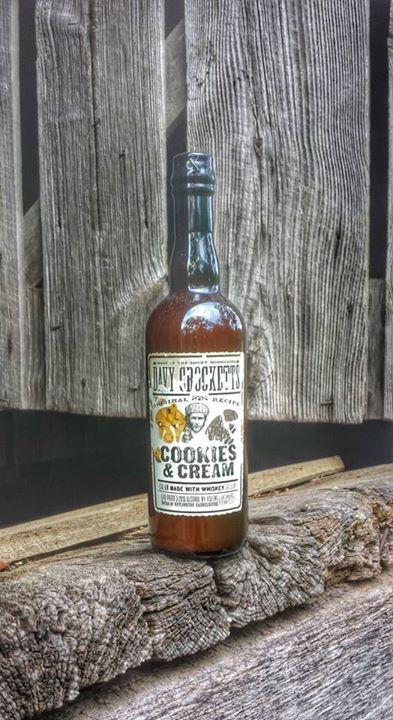 Will you take a big swallow of Cookies & Cream Whiskey?
—Amy Sciarretto
09.08.14